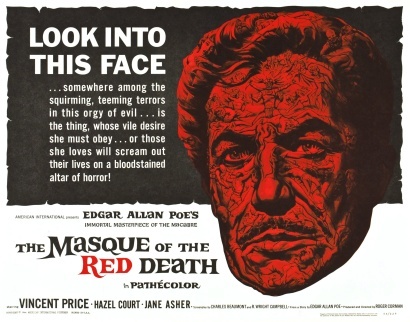 Nope, no big openings this weekend, and everybody is too busy talking Oscars right now. So while waiting for the awards ceremony to begin, the Cinefantastique Online team of the Steve Biodrowski, Lawrence French and I got together to celebrate another film having its fiftieth anniversary this year. It's Larry's call this time around, and he's picked a good 'un: The Masque of the Red Death, Roger Corman's adaptation of the Edgar Allan Poe story that casts Vincent Price as a Satan-worshiping noble who just wants to be loved -- and corrupt anyone who comes within sneering distance -- while an horrific pestilence spreads across the Italian countryside.
This time the team is in accord that this is not just, at the very least, one of Corman's best Poe adaptations -- and possibly the best -- but also a bona fide horror classic, lushly mounted and photographed (by Nicolas Roeg!), intelligently adapted by Charles Beaumont and R. Wright Campbell, and featuring an impressive cast headed up by Price in one of his finest performances. Come listen in as the guys delve in-depth into what makes this a must-see film for any dedicated fan of cinematic terror.
Click on the player to hear the show, or right-click the title to download.
Cinefantastique Spotlight Podcast 50th Anniversary Special:
The Masque of the Red Death
LIKE CINEFANTASTIQUE ONLINE ON FACEBOOK
.