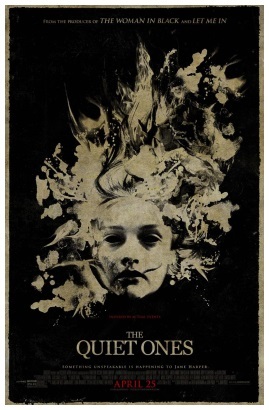 A professor and his students perform experiments on a young subject, trying to prove that the paranormal experiences she claims to undergo are actually psychologically motivated. But the more they delve into the case, the more it seems that what's going on is driven by powers not even the subconscious mind could imagine. What could these strange forces be? Sorry, can't tell you, even if I wanted to -- I unfortunately wasn't able to see The Quiet Ones, the newest entry out of the revived Hammer Studios, starring Jared Harris as the morally compromised scientist and Olivia Cooke as his unfortunate subject. But Cinefantastique Online's Steve Biodrowski and Lawrence French got a look, and in this episode they're able to clue me in on how effectively director John Pogue manages the scary stuff, whether the payoff is commensurate with build-up, and how this latest entry slots into the legacy of the legendary British horror house.
Click on the player to hear the show, or right-click the title to download.
LIKE CINEFANTASTIQUE ONLINE ON FACEBOOK
.