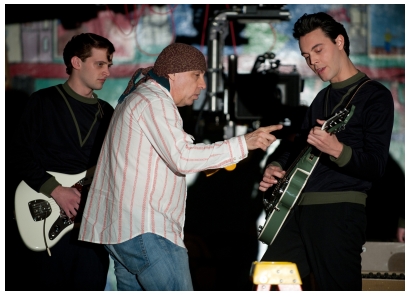 The 'burbs are alive with the sound of music. Especially in the sixties, especially if you were a teen in New Jersey jamming with your friends in a garage and dreaming of being the next Rolling Stones. Not Fade Away is the directorial debut of The Sopranos creator David Chase, a canny look back at a time when culture, politics, and family underwent vast tectonic shifts, and a kid with a decent voice (John Magaro) and his band mates (including Boardwalk Empire's Jack Huston) could feel that they were just a hit record away from rock superstardom.
Chase brought in legendary E Street Band member Steven Van Zandt -- who had previously appeared as mobster Silvio Dante on The Sopranos -- to oversee the music component of the film, including composing an original song, The St. Valentine's Day Massacre. I got to spend time with both Jack Huston and Van Zandt for this deluxe-sized show, and we were able to get inside the motives of the film and the challenges of recreating a time when change was everywhere.
Click on the player button to hear the interviews, or right-click on the title to download.
Mighty Movie Podcast: Steven Van Zandt and Jack Huston on Not Fade Away.