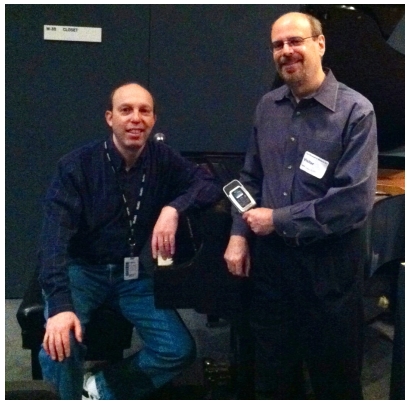 So it's finally come to pass: Like, Buffy the Vampire Slayer and Batman: The Brave and the Bold, Mighty Movie Podcast has been around long enough to merit itself a special, musical episode.
I've long wanted to have Ben Model, silent film accompanist extraordinaire, on the show. Ben (that's him on the left, me on the right) has a 30+ year history creating music for silent flicks -- institutions such as the Museum of Modern Art, Kino Video, and the Library of Congress count on his compositional skills and (frequently) tinkling ivories to bring that final, crucial bit of life to the works of D.W. Griffith, Buster Keaton, Mack Sennett, and on and on. In this show, we sit down in one of the Museum of Modern Art's theaters to discuss the demands of composing for chase sequences, with Ben hitting the keyboard to give us some insight into how it's done.
So put on your dancing (or, more accurately, running) shoes and click on the player button below to listen to the show, or right-click the title to download.
Visit mightymoviepodcast.com FOR MUCH, MUCH MORE.