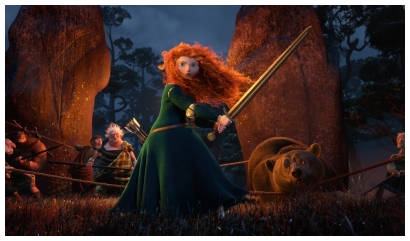 Triumphant return of Pixar after the disappointment that was Cars 2? Another daring redefinition of the family film from the people who turned a near-dialogue-free tale about a love-struck robot, an adventure about a cantankerous, air-bound septuagenarian, and a fantasy about a culinary-obsessed rat into worldwide, critical and commercial hits? Uh, no, not quite. But if Brave's chronicling of a headstrong Irish lass (voiced by Kelly Macdonald) who struggles against her parents' (Emma Thompson and Billy Connolly) plans to marry her off -- to the point where an unfortunate magic spell is invoked -- doesn't restore the vanguard CG studio to its widely accepted position of dominance, it does offer many charms to accompany its few stumbles. Come join Cinefantastique Online's Steve Biodrowski and me as we examine the film in depth and express relief that at least the storyline isn't commandeered by an affable, country-bumpkin tow-truck.
Also, I weigh in briefly on the romantic apocalyptic comedy, Seeking a Friend for the End of the World; plus, what's coming to theaters June 29.
Click the player button to hear the show, or right-click the title to download.