In the new movie Frozen, a group of fun-loving snowboarders -- played by Shawn Ashmore, Emma Bell, and Kevin Zegers -- get stuck on a chair lift. As the ski resort shuts down for the week, the young people realize they are trapped, facing certain death from exposure to the elements.
Nothing quite strikes a nerve the way throwing a hapless human into a completely insurmountable situation does. There's an irresistible pull to watching someone suffer a sort of primal melt-down when faced with the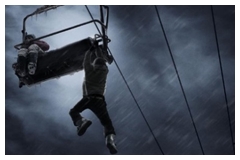 realization that neither fight nor flight are viable options, and filmmakers have taken good advantage of the impulse, sometimes directly, sometimes in surprisingly nuanced ways.
We are not immune to the gut twist that comes when witnessing a trap well-sprung -- hell, we invite it! So in honor of those sorry snowboarders, we offer up our favorite Top 10 "No Escape" Scenarios.