According to director Jacques Audiard's stunning new movie, A Prophet (Un Prophète), no one would wish to be in the shoes of Malik El Djebena (newcomer Tahar Rahim).
A low-level criminal serving a six-year prison sentence, he is at the mercy of the Darwinesque nightmare that is society behind bars, most particularly when he becomes the unwilling pawn of the jailed, Corsican mob boss, César Luciani (Niels Arestrup). As much as Malik tries to stay ahead of his situation -- using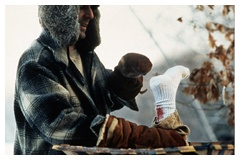 the paroles César has orchestrated as an opportunity to start his own drug-running operation, for instance -- fate, rival crooks, and the very smart César seek to intervene at every step.
It's a basic tenet of good storytelling that whatever plans your characters put into action, it can't hurt if things don't go quite as smoothly as anticipated. Sometimes, though, the brilliant, foolproof, fail-safe scheme that goes utterly and (oh boy!) horribly wrong is a story in itself. Moviemakers have taken good advantage of the irony, suspense, and drama to be had when a best-laid plan seriously "gangs agley," especially in these 10 gripping, and entertaining, examples.