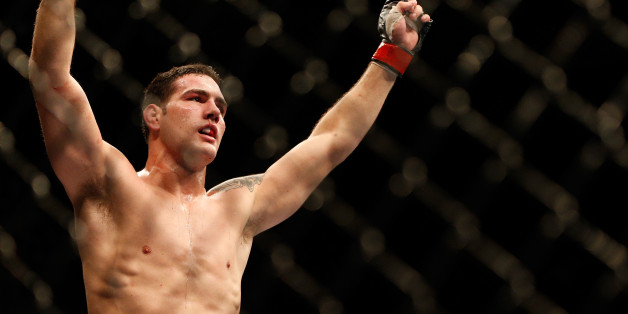 Images are powerful. Images are shocking. Images are provocative windows into brief moments that can never be recaptured, paused still for eternity. And for all the amazing images we have witnessed in 2013 -- depictions of triumph, glory, failure and elation -- the lasting frame, the moment we will remember most, is that of UFC all-time great Anderson Silva snapping his shin to end what will, very likely, be the final performance of his career.
Honestly, that final, gruesome, Silva kick is a very sad, intense and horrific way to end what has been a phenomenal year of mixed martial arts, of pure, unbridled competition, fantastic knockouts, and implausible submissions, but the instant impact of such a graphic image, and the excruciating suffering of one of the sport's legends leaves us numb and blank, and possibly unable to recall the top moments of 2013.
Anderson Silva, a man who many believed to be superhuman for his otherworldly athletic abilities, in his final act of 2013, not only reminded us all of the fragility of the human body, but also of the great risks MMA's top competitors regularly endure to bring the sports world fine feats of athleticism and entertainment.
It is with a heavy heart, and mind slightly scarred by the slow-motion replay of Silva's left tibia and fibula violently shattering against middleweight champion Chris Weidman's leg, that I review MMA's best of 2013.
Fight of the Year: Jon Jones vs. Alexander Gustafsson - UFC 165 (September 21, 2013, Air Canada Centre, Toronto, Ontario, Canada)
An instant classic, the UFC 165 main event between light heavyweight champion Jon Jones and challenger Alexander Gustafsson had all the fireworks, blood and violence of an all-time great matchup.
Sweden's Gustafsson raced out to an early lead, becoming the first fighter to take the champ down, bloodying him up in the process. But Jones re-grouped after the second round, and used his vast arsenal of kicks, standing elbows and clinch work to score the unanimous decision victory.
"Going through that adversity of being cut and bruised up and beat up, and to still come out on top, it was a win that I will remember forever," offered Jones. "I was kind of feeling invincible for a bit and that fight really brought me right back down to earth."
While Jones earned the victory on all three judges' scorecards, many gave the fight to Gustafsson, whose star has risen significantly on account of his gutsy and heroic performance. So impressive was Gustafsson against Jones that he was later voted onto the cover of EA Sports' upcoming UFC video game by the fans, opposite Jones. And, should he top Jimi Manuwa on March 8, 2014, the Swede will earn a second chance at the 205-pound title.
"I really think I won, but I didn't do enough [to impress the judges]... It was a great fight, it was a tough fight; I'm even more motivated now than I've ever been," offered Gustafsson. "I always wanted a rematch very much, that's what I'm working for right now... and I can tell you that the next fight against the champ is gonna be different."
Runner Up: Eddie Alvarez vs. Michael Chandler - Bellator 106 (November 2, 2013, Long Beach Convention Center, Long Beach, California)
Rematches rarely live up to the promotional hype of their predecessors, but the second meeting between Bellator MMA lightweights Eddie Alvarez and Michael Chandler exceeded their previous bout, with Alvarez scoring a razor-thin split decision.
With back-and-forth, non-stop action for the full 25 minutes, Alvarez and Chandler bloodied each other with heavy punches and kicks, each man attempting on several occasions to submit the other with any number of rear naked chokes.
Bellator has yet to announce the rubber match between their two top 155-pound fighters, but Alvarez-Chandler III is no doubt coming in 2014. Let's just hope the third installment is half as good as the first two.
Fighter of the Year: Chris Weidman
UFC middleweight champion Chris Weidman did the impossible in 2013, twice.
After knocking out former division kingpin Anderson Silva at UFC 162 in July, a match that was mired in controversy, Weidman returned to the octagon at UFC 168 to earn a second straight victory over the former strapholder.
A former Division-I All American wrestler and U.S. Brazilian Jiu Jitsu champion, Weidman remains undefeated in the octagon, going a perfect 7-0 under the UFC banner, and at only 29 years old, he has the potential to become an all-time MMA legend.
Runner Up: Vitor Belfort
Three fights. Three wins. Three head kick knockouts. Those are Vitor Belfort's stats for 2013, a year in which he experienced a career resurgence.
Starting the year off with a second round knockout over the highly touted Michael Bisping, Belfort capped 2013 by becoming the first man to ever KO former Olympian Dan Henderson.
Now riding a three-fight winning streak, Belfort has cemented his status as the top challenger in the 185-pound division, and is expected to take on Weidman in 2014.
Knockout of the Year: Vitor Belfort vs. Luke Rockhold - UFC on FX 8 (May 18, 2013, Arena Jaragua, Jaragua do Sul, Santa Catarina, Brazil)
After Strikeforce permanently shut the gates on its hexagon in January 2013, Zuffa transferred the prior's top talent over to the UFC roster, setting up a handful of crossover contests, including a headlining bout between former UFC champion Vitor Belfort and Luke Rockhold.
With Rockhold riding a nine-fight winning streak that spanned over five years, many believed the pairing to be competitive, but Belfort offered the final Strikeforce middleweight title holder a quick and painful welcome to the octagon, disposing of Rockhold just 2:32 into the first round.
A naturally quick starter, Belfort never allowed Rockhold the time to become comfortable inside the cage, distancing himself from the taller American with feints and footwork. Then, out of nowhere, the Brazilian timed up a picturesque spinning back kick that landed flush on Rockhold's temple, sending him to the canvas. From there Belfort followed up with a five-punch flurry to the grounded Rockhold's face.
Runner Up: Antonio "Big Foot" Silva vs. Alistair Overeem - UFC 156 (February 2, 2013, Mandalay Bay Events Center, Las Vegas, Nevada)
With the recent revelation that Antonio Silva failed a post-fight drug screening following his UFC Fight Night 33 barnburner with Mark Hunt, "Big Foot's" in-cage antics after his knockout of Alistair Overeem may be best described as a flash of roid rage (to clarify, Silva did not fail his drug test at UFC 156).
Down two rounds to none, Silva stormed out of the gates in the third round, firing off a series of kick and punch combinations to back Overeem against the cage. From there, the Brazilian unloaded on the Dutchman, knocking Overeem out while still on his feet, sending him to the mat dazed and unconscious just 25 seconds into the third frame.
Having already won the fight, Silva continued to encroach on Overeem, screaming at, and taunting, the fallen fighter over an embroiled pre-fight war of words. Eventually referee Herb Dean intervened, literally dragging Silva away, but not before he brutally relieved Overeem of his consciousness.
Submission of the Year: Rousimar Palhares vs. Mike Pierce - UFC Fight Night 29 (October 9, 2013, Jose Correa Gymnasium, Barueri, Sao Paulo, Bazil)
The heel hook heard round the world tops the list for submission of the year, but while Rousimar Palhares is taking home the top prize for his swift and efficient stoppage of Mike Pierce, the Brazilian is not earning any commendations in the sportsmanship category.
Making his welterweight debut in front of his hometown crowd, Palhares briefly stood with Pierce, backing the American against the cage before dropping down for his signature Brazilian Jiu Jitsu technique and eliciting the tapout just 31 seconds into the contest.
Unfortunately for Pierce, Palhares failed to release the painful lock, despite repeated taps, and the unsportsmanlike conduct cost the Brazilian his job with the UFC, which released him several days later. Having recently signed with the World Series of Fighting, Palhares will be required to undergo psychiatric treatment before re-entering the cage, but his UFC Fight Night 29 submission, for which he was not awarded a post-fight bonus, spawned new rhetoric on sportsmanship in MMA and brought new attention to the power, and danger, of leg locks and heel hooks.
Runner Up: Pat Healy vs. Jim Miller - UFC 159 (April 27, 2013, Prudential Center, Newark, New Jersey)
Another controversial finish, Pat Healy's submission of Jim Miller at UFC 159 technically never happened, as the result was later overturned after Healy failed a post-fight drug screening, testing positive for excessive marijuana metabolites.
A Strikeforce veteran making his return to the octagon after a near seven-year absence, Healy was given a tough assignment in Miller, a top-echelon lightweight fighting in front of his hometown New Jersey crowd. Healy looked sharp in the contest, out striking his opponent, landing five takedowns in seven attempts, eventually choking Miller unconscious 4:02 into the third round.
The match was later named "Fight of the Night," with Healy earning an additional bonus for "Submission of the Night." But the victory, and the promise of the bonus money, was short-lived, as Healy claimed neither and remains winless in the octagon to this day.
Pat Healy's rear-naked choke of Jim Miller was not only an impressive Brazilian Jiu Jitsu technique, but if furthered the debate on marijuana in MMA, and in the sports world, where the substance is gaining acceptance for its ability to relieve the pain so many athletes face during years of hard and brutal competition.
Story of the Year: The Loss of Legends
Heading into 2013, the UFC's dais of champions represented generations of mixed martial arts greatness, with legends like Anderson Silva and Georges St-Pierre, the promotion's two longest reigning title holders, being joined by greats like Cain Velasquez, Jon Jones and Jose Aldo, along with newer strapholders like Ronda Rousey, Benson Henderson and Demetrious Johnson.
But on July 6, at UFC 162, the façade of invincibility for the UFC's top draws began to fail, as Chris Weidman stopped Silva with punches to claim the middleweight title.
Henderson was the next to fall, verbally tapping out to an Anthony Pettis armbar at UFC 164, and almost four months later, long-standing welterweight king St-Pierre vacated his 170-pound title after a controversial, split decision win over Johny Hendricks at UFC 167.
With Silva's devastating injury and failed bid to reclaim the title from Weidman at UFC 168, the future is uncertain for the former champion. Combined with St-Pierre's vague status on a looming return to the octagon, 2013 represents a seismic sea change in the MMA world, a year when the luck of legends finally ran out.
Runner Up: The Women's Movement
Roughly two years ago, UFC President Dana White went on the record to say that women would never fight in his octagon, ever.
Fast forward to February 23, 2013, when Ronda Rousey became the first woman to win a fight in the UFC, securing an armbar submission over Liz Carmouche at UFC 157.
While women have been fighting in professional MMA matches for over a decade, their acceptance by the UFC and ensuing elevation in sports media was a major force in 2013.
Season 18 of The Ultimate Fighter, coached by Rousey and rival Miesha Tate, was the first to incorporate women into the promotion's reality TV vehicle, and the recent absorption of Invicta's 115-pound division -- which will debut on TUF's 20th season -- has cemented women's MMA as the most accessible professional women's sport in America.