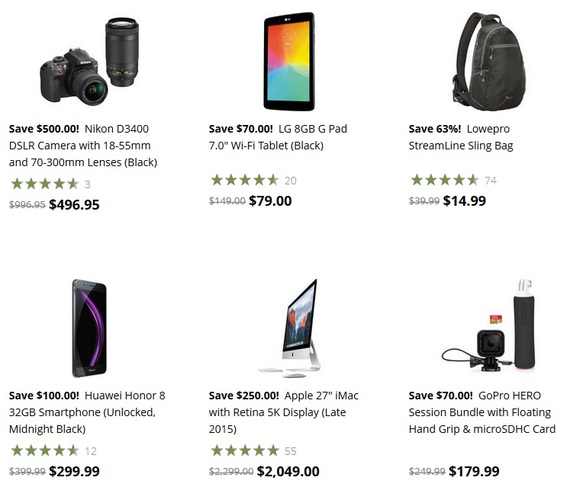 There are tons of deals this Cyber Monday but just because you see an advertisement doesn't mean you should be emptying your bank account. All of the following deals are for products I recommend with sale prices that actually save you considerable money. Check back for the latest deals.
(updated 11/28/16)
Apple Macbook Pro, iMac, Macbook, and more: B&H Photo
These products are rarely on sale so might as well save a few $100 while you can
Panasonic GX8 - $997 w/12-60mm lens $150 Gift Card
Amazing 20MP images, 4k video, WiFi & NFC, and in camera image stabilization make this one of the best cameras around for under $1000.
Canon T6i - $649 w/lens + bag + 32GB Sandisk Extreme card
Great camera, $250 off, and free stuff make this a win

Acer Chromebook 14 - $229
Not every chromebook is a good computer but with a 1080p 14" display, 4GB of RAM, and a 32GB drive, this aluminum chromebook gives you a quality system for next to nothing.
Acer 24" IPS 1080p Monitor - $90
Getting any 24" monitor for under $100 is a deal but an IPS dislplay with great colors and off axis viewing for this price is virtually unheard of

Logitech Harmony Smart Remote - $69
Don't buy another universal remote...this is the one to buy. I now have one for all my entertainment systems. Control your electronics (even lighting) via remote, iphone/android app (great for when I can't find the remote!), and even using the Amazon Echo or Samsung Smartthings. It uses WiFi so you can even control electronics stuffed away in closets or in different rooms. I can turn off my Living Room TV from my bed using my phone or my Amazon Echo. The future is here and this sale price makes it worth buying NOW!
Amazon Fire HD Tablet - $33+
It's not the best tablet in the world but great for what it is, awesome for kids, and is cheap as dirt!
Nikon D5300 - $599 + 2 lenses
This is over $500 off!
Sony Alpha A6300 - $999 + $100 gift card
Not the greatest deal as far as savings go but the best yet on this amazing camera
DJI Phantom 3 Standard - $549 + Extra Battery
The standard for drones offering great quality for the price and the much needed extra battery. If you are ready to go all out, pick up the Phantom 4 4K with a bunch of extras for $999
Nikon D3400 - $499 w/2 lenses
This base level DSLR with 2 lenses is a great way to get a quality system on a budget
Amazon Echo Dot - $39
OK...not camera related. But I have this hooked up to my stereo and it's AWESOME!
Panasonic G7 w/kit lens $499 + $50 Gift Card
This is a camera I personally own. Simply put, it takes great pictures and offers unrivaled video performance for the price with tons of awesome features such as WIFI.
Sony A6000 w/lens - $549
Great quality still images and 1080p video make this a great mirrorless camera for those who may want something a little smaller than a traditional DSLR
Sandisk UltraFit USB 3.0 64GB Flash Drive - $12.99
Great deal on a solid, fast, and small flash drive. Also available in 128GB for only $22.99
Sandisk Extreme Portable SSD 480GB - $129
If you plan on working off of external storage, this is the drive to get. Fast as hell, SSD, built like a tank with shock resistance, and plenty of storage for an awesome sale price.
Blue Snowball USB Microphone - $39
Whether upgrading your built in computer mic for better video calling or looking to make better sounding videos for youtube, the Snowball offers much better quality for a low price. Upgrade to the Blue Yeti for even better quality in addition to Headphone/line outputs which is great for singers and musicians to record their songs for $89.
Google Chromecast and Chromecast Audio $25
This is probably one of my favorite devices ever invented. If you don't own at least 1 of these, you absolutely should. At $25, there is no reason to not. You also should have a chromecast audio hooked up to every entertainment center or speaker system you have!
Gopro Hero Sessions Kit $179 w/extras
Get a waterproof GoPro with all the extras you need for $20 less than the camera alone! Sounds like a deal worth getting