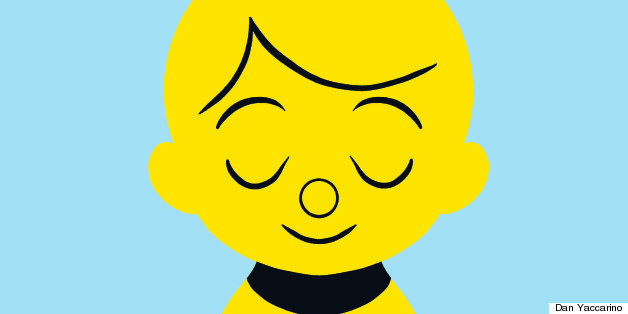 As it stands now, my life has been 25% low-tech and 75% high-tech.
Within my lifetime, computers have gone from refrigerator-size affairs used by scientists, governments and super villains to handy pocket-sized devices used by everyone, everywhere, all the time. Mostly, I think this is cool. I'm no Luddite, and no tech wizard, either. I'm just your average fellow who uses his laptop, tablet and smartphone every day.
I am an author and illustrator of children's books, and these tools have become invaluable in creating my stories and artwork. Photoshop, Word -- heck, just scanners and email have made my life so much easier. Computers aren't my only tools, though. I nearly always begin with good ol' pencil and paper, and that hands-on creation of art is still essential for me. I attribute my ability to switch back and forth between high- and low-tech to my unplugged youth. It was a time when I used bandaged fingers and a razor blade to edit actual movie film. When random drips of paint led me down paths I would have never known existed. When I sweated out that perfect shot because I only had two exposures left in my camera. I had to be careful. Creative. Flexible.
Those are skills I still use. And I find myself worrying about people who aren't as old and decrepit as me with an analog experience to fall back on: my kids.
Yes, the same kids I ask for help when creating a grid in Word, or downloading an ebook from the library. I know I'm getting the exact same disdainful look I gave my parents when I showed them how to program the VCR for the umpteenth time.
I want my kids to be able to use all of the amazing high-tech tools available to them. But I also want them to realize that there are other tools and other ways to communicate. I want them to know that their options are not limited to what's on the scroll down menu in an application. I want them to be able to navigate the world without GPS.
Texting my kids, "Put down your phone," shockingly, didn't work. They replied, "U R a nrd dad."
So, in an effort to unplug, my immediate family, as well as a few in-laws and a tech-savvy 2-and-a-half-year-old nephew, gather every Sunday for dinner. We wanted a few hours of family, food and conversation, where no electronic devices were allowed.
And oh, how we try! But it's so easy to settle an argument about the Jamaican bobsled team with a quick Wikipedia search, to quickly snap an iPhone photo of that slaved-over paella or to Google the accurate lyrics of Great Green Gobs of Greasy, Grimy Gopher Guts!
We adults are often the worst rule breakers as we steal away to check our email like smokers trying to quit, but pathetically sneaking a few puffs and blowing the smoke out the bathroom window.
But mostly, the Sunday dinners are wonderful, relaxed, happy times. We actually talk. And laugh (sometimes literally ROFL). We connect to each other by disconnecting from technology. It's become a night we all look forward to.
My new picture book, Doug Unplugged, is the story of a robot who learns about the world via download from a mainframe computer. And he learns a lot. But he thinks he could learn even more by unplugging from the virtual and zooming headfirst into the real. He uses his senses. He learns to play.
This book, which extols the virtues of experiential learning and playing over the digital sort, is available as a 40-page hardcover book. It's also available as an eBook. And I'm OK with that.
Here's the funny thing about Doug Unplugged -- I created the art digitally. I know it sounds weird to use a digital device to create art for a book about unplugging from digital devices, but for me, it made sense. I did black ink and brush drawings on vellum paper by hand and scanned them. Then I opened the drawings in Photoshop and applied the color. So, the art was half traditional, half digital -- a balance.
That is really the message of the book.
"Be the change that you wish to see in the world," Mahatma Gandhi said. So I'll follow this inspirational quote (which I cut and pasted from an inspirational quotes website) and make some time to unplug.
I think my kids will thank me -- someday.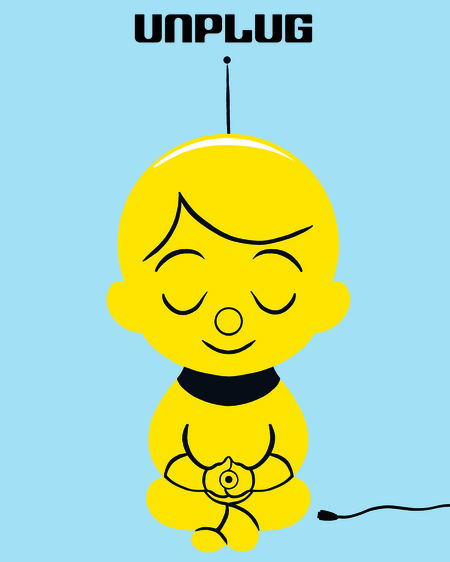 This column was written for The Huffington Post to coincide with Random House's Screen-Free Week (April 29-May 5, 2013). Dan Yaccarino is an internationally acclaimed author-illustrator with more than 30 books to his credit. Dan is also the creator of the animated TV series "Oswald and Willa's Wild Life," and he designed the characters for "The Backyardigans." He can be found online at danyaccarino.com.