Two weeks later I am still pinching myself, trying to believe what really happened. Everywhere I go people are saying: Was that really you up there? How did you make it happen? You're the luckiest girl in the world!
I should probably start at the beginning.
Music has always been my passion. I am amazed by its universal power to heal, comfort and move people. And Maroon 5, with its heartfelt lyrics and catchy melodies, has always been one of my favorite bands.
Last fall, Adam Levine, the lead singer of Maroon 5, asked fans to collaborate on their music video for the song Daylight. I seized the opportunity to get my voice heard, submitted a short video, and to my surprise, found that a tiny part of it was included in the final product.
A couple of weeks after I saw myself in the video, I found out that Maroon 5 was coming to Montreal, my hometown, to give a concert. My close friend, Hannah and I quickly bought tickets close to the stage. I told her: "Adam Levine is going to know that his biggest fans are in the audience. I'm not sure how, but he will." I finally came up with a simple idea: a fluorescent orange poster that read "I was in ur Daylight vid. Let me sing with you?"
The night of the concert finally arrived. Hannah and I were sitting close enough to the stage that the band's assistant saw my sign. He gave me a thumbs-up, pointed to the stage and smiled. Eventually, Adam Levine also winked and pointed in my direction. Though all this seemed promising, I was driven to take it further. So when the assistant happened to approach our section, I leaned over the banister, and asked: "So do you think I can get up there?"
"Up where?" he replied.
I realized he didn't recognize who I was without my poster, which I'd left with Hannah, so I quickly said, "I'm the poster girl! I was in their "Daylight" video -- please let me get up there and sing with him, just for that one song! Can you make it happen?" The assistant's noncommittal reply was disappointing, so I persisted: "Please, I'm such a fan, I know you can do this for me!" Finally he grinned and replied: "I'll see what I can do."
Excited and breathless, I returned to my seat. "It's happening," I told Hannah. "I'm not sure if I'll be able to sing but I have a feeling that I'll be up on stage with Adam Levine. I must be dreaming."
Toward the end of the concert, the stage lights went off. Being close enough to the stage, I was able to see the assistant talking to James Valentine, the lead guitarist. My heart was pounding as I watched James make his way across the stage to Adam. I understood exactly what was happening. After speaking into the lead singer's ear, he then pointed in my direction and within five minutes, I was making my way to the stage. Before I knew it, I found myself in front of 18,000 people.
The rest is history, as they say. But could it be the future? I don't know. The experience furthered my belief that the stage is the place for me, and that with resourcefulness, determination and a little luck, anything is possible.
In the meantime, I've gone back to my real-life: full-time architecture student, part-time salesperson and voice student. It's a busy life, complete with amazing family, great friends, and many dreams that I now know can come true. As fabulous and surreal as it was to be on stage, I know that having all this is really what makes me the luckiest girl in the world.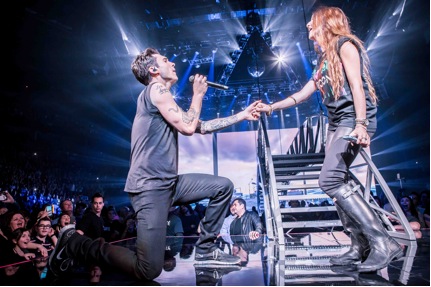 Travis Schneider Photography ©