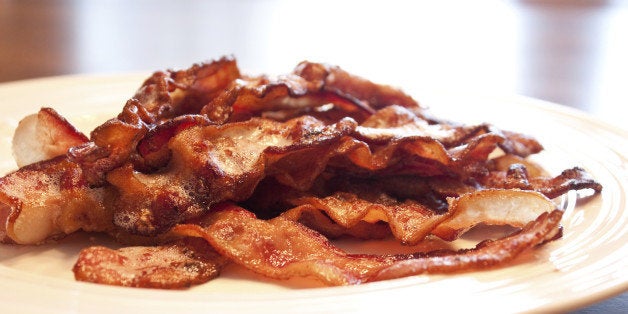 Just when you thought the artisanal, small batch, local, DIY trend has gone far enough, you learn how to make your own bacon and realize things are only now getting interesting. That's right. The "craft bacon" industry is under way and I want you to know about it first. Why? Because it's delicious and it makes an unexpected gift for the bacon crazed people in your life.
My friends at BaconFreak awesomely shared with me their favorite secret recipe for curing bacon at home. And, I was beyond surprised at how easy it is. The hardest part is waiting and waiting and waiting for 7 whole days for it to cure. For an impatient person like me who thought waiting overnight to make ice cream was hard, this is testing new limits. Once you know what you're doing though, you can experiment with different flavor profiles, spices, etc. and come up with your own signature bacons! Let's not get ahead of ourselves, you do have to learn how to make it first.
Here is BaconFreak's recipe, courtesy of their blog, Bacon Today:
• One 4-pound slab of UNCURED bacon or pork belly
• 1/3 cup bacon cure (you can easily find curing salts and other cures online)
• 1/3 cup bacon rub (you look up recipes online or buy these pre-made, too)
• 1 or 2 Large freezer bags
Uncured slabs of bacon are pretty easy to come by if you have a decent butcher at your grocery store or local meat shop. And, don't be scared, creating your own bacon rub could be as simple as maple syrup, bourbon, salt and pepper.
1. Pour bacon cure and bacon rub into a ziplock bag. Add your 4 pound slab of pork belly. Shake gently to evenly coat. (If your bag is not quite large enough, divide your bacon into 2 equally sized pieces and use 2 separate bags. Use only half the jar of cure and rub in each of the 2 bags.)
2. Put your shaken bacon bag into the refrigerator. Every other day, be sure to turn your bacon over.
3. After 7 days in the refrigerator, take out the slab. Give it a good rinse and then pat it dry.
4. Insert a meat thermometer into the thickest section of your slab.
5. If you are using a smoker, pick your favorite flavored wood chips to accompany your bacon flavoring. Cook your slab in the smoker or the oven at 200 degrees until the inside temperature reaches 145 degrees. It will take about 2-2 1/2 hrs.
6. Allow your freshly smoked bacon slab to cool in the refrigerator for thirty minutes before you slice it. This will allow all the yummy juices to stay inside the slab.
7. If your slab has skin on it, you'll want to carve that off now. If not, choose how thick you want your slices and cut away!
See? That wasn't so bad, was it? Now you can have your friends over for a bourbon and bacon tasting party. Just don't forget to invite me!