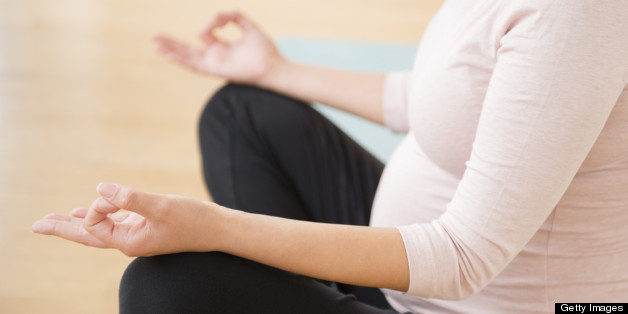 With Mother's Day coming up, it's a no-brainer that you'll be plotting gifts for mom, but what about your friend, sister, or coworker who is a mom-to-be? The "Royal Pregnancy" has us all talking about the mom-to-be as a new category for Mother's Day altogether. They might not be mothers just yet, but they're really close and they're definitely already thinking like moms! What do you think? I think any woman embarking on the life changing experience of having children deserves a gift. So, here is my guide to Mother's Day gifts for the mom-to-be.
Remember, this is her last baby-less hurrah. Make her feel excited about becoming a mom, but still hip! She's not losing herself to dowdy clothes and animal shaped nuggets without a fight. It's your job as someone who loves her, to help her out.
Before you start shopping for mom-to-be's first Mother's Day, you have to be careful that her culture agrees with pre-baby gifts. After doing some digging, Judaism is the only culture that I could find that considers it bad luck to buy gifts for a baby before it's born. So in all other cases feel free to indulge the mom-to-be in your life with a little pre-birth package.
Throughout her pregnancy, she will get plenty of gifts for the baby, but use Mother's Day to get something just for her. Celebrate who she is at her core and give her what she'll need to remember who that person is when she's had two hours of sleep and can't remember the last time she ate with a fork. Below are some ideas on how to do this.
A gift certificate to a spa: There might be no better time to pamper a woman than when she's pregnant. Let's face it, being pregnant isn't exactly comfortable. Be sure to check with the spa that they have people trained in pre-natal care. Massages and treatments need to be altered quite a bit when mom is sharing her body with the little nugget. And, manicures and pedicures can be very toxic so be sure to give her some non-toxic polish for her day out.
Mommy-To-Be Yoga: Find out which studio nearby offers pre-natal yoga classes, and buy her a membership there or a class pass so that she can try it out. If you know she's more of a homebody, put together a kit that you can do together. Include a prenatal yoga DVDs, a yoga mat, and a yoga block. Research shows that regular yoga, or exercise in general, during pregnancy can make labor shorter and less painful.
A Beauty Basket: Just because she's becoming a mom, doesn't mean she's giving up on her body. Fill a basket or tote with natural beauty products or anything specifically geared towards moms-to-be. Throw in moisturizer for her stretching belly, and some sunscreen, as pregnant women are particularly sensitive to the sun. Don't forget some non-toxic lipsticks and nail polishes in fun colors.
A new camera: Cameras are great, of course, for when the baby comes, but they're also fun to have during a pregnancy. What better way to keep track of mama's (and baby's) progress than by documenting it each month? A good camera can cost a lot so this could be a good chance for all the ladies to chip in and give this gift to "mom" together.
Stylish, comfy clothes: Just because she's pregnant doesn't mean she wants to give up her style. In fact, looking good on the outside can be crucial at this time because she's probably not feeling all that great on the inside. So, why not get her a wrap dress for going out, stretchy yoga pants to lounge in, or those amazing jeans that have elastic waistbands in lieu of a button and zipper.
Even though the moms-to-be in your life aren't moms just yet, they will be very soon! This Mother's Day, don't let them get lost in the shuffle. Happy Mother's Day.
Dana Holmes is a lifestyle, gift and etiquette expert who acts as Editor in Chief of Gifts.com and the Gift Rap Blog. She has been working in trend forecasting and gift recommendations for the past decade. Dana loves making occasions special with her unique gift ideas, tips and touches. She has been interviewed by the New York Times, Associated Press, Fox & Friends, TODAY in NY and many more.