I love the color green. It always makes me think of spring which,
this time of year, is very welcome! What better time to collect my
favorite emerald-hued gift ideas that are sublime for St. Patrick's
Day or any day? So, I combed Gifts.com for the most verdant gifts for
the whole family, enjoy!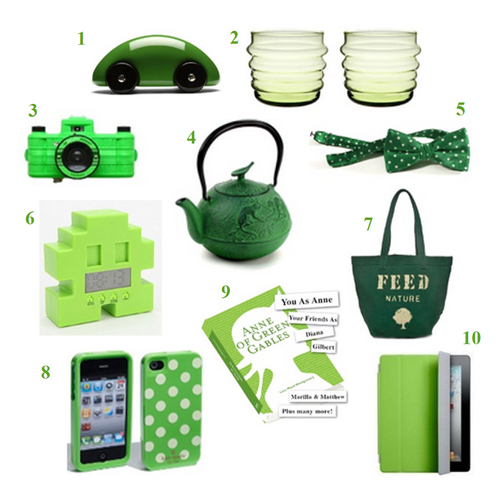 1. I have always loved the Streamliner Classic Car from Playsam and
couldn't resist including their green version here. At $44, it's a
wee-bit pricey, but it's made to last and the design is one that will
be appreciated for generations.
2. Green glasses from one of my favorite housewares designers,
Marimekko, are the ideal vessel for a whiskey and water or green
ginger ale.
3. Capture your adventures on real film with the colorful Sprocket
Rocket camera in green from Lomography, $90. It shoots over the edges
of the film so that when you print, you see the holes at the top and
bottom where the film rolled up.
4. Sharing a hot cup of tea with someone you love can be fantastic,
especially with the perfect pot like the Teavana Year of the Monkey
Cast Iron Teapot.
5. Accessorize your trendy leprechaun with this pre-tied, green and
white bow tie from Paul Frederick.
6. This other worldly Space Alien Alarm Clock that looks like a
throwback from the 8bit video game days will make waking up slightly
more bearable for kids and teens pre- and post-St. Patty's Day.
7. Green in more ways than one, the FEED Nature Bag is a shopping
tote so it prevents excess trash from grocery bags; when you buy
it, FEED donates 25 meals to the UN World Food Program.
8. Spritely green and white dots on your iPhone case will keep you
from getting pinched on the 17th, and looking springtime chic every
day after. I love this Kate Spade New York iPhone case.
9. I'm a book nerd, it's true. So, of course I think that this
customizable Anne of Green Gables novel is one of the most amazing
gifts ever. Fill in a brief questionnaire and receive this classic
story with a twist... it's starring You instead of Anne!
10.Tip your hat to the emerald isle without donning green head to toe
by dressing up your gadgets. If you're one of the many and the
"lucky" to have iPads, why not keep it under wraps with a green Smart
Cover?
Click here or click the collage to see where you can get all of
these green gifts, and celebrate St. Patrick's, or any, Day in color!
Slainte!