(This story appeared here first in French in Huffington Post France.)
NICE, France - If my French cat Voltaire could talk, this is probably what he'd tell me:
"Are you seriously such a Francophile that you'd name me Voltaire? Listen, do you have any idea that this summer in France at least 60,000 animals are going to be abandoned, the way I was -- many of them thrown onto the highways?
"Yeah, that's right. Even cats like me with beautiful eyes and gorgeous fur are going to be tossed out of cars like an old pair of shoes."
Voltaire (I don't know his real name) is right. Before I adopted him, during the past seven years I've lived in France, I read articles and watched TV shows about the number of animals dumped before the French take their annual August vacation.
"Think you really know France, you American? Eh oui, I could tell you a few things about France."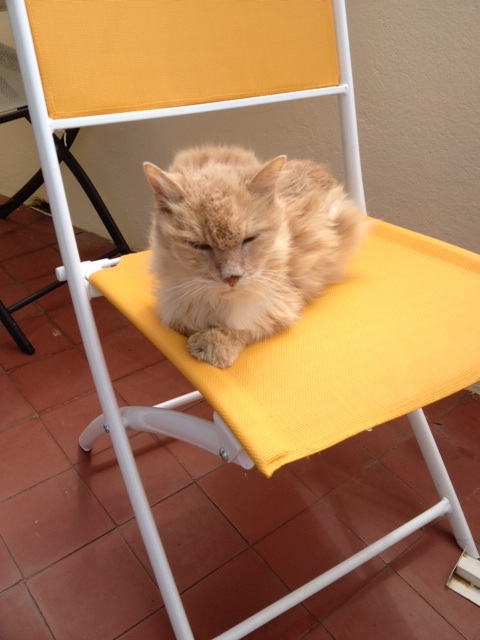 In spite of the seasonal media campaigns aimed at raising awareness among the French, more than 60,000 dogs, cats, hamsters and gerbils are abandoned by their owners every summer. Even in this country where the people have such a reputation for loving their pets.
Voltaire's story has a happy ending, thanks to his own tenacity and because of his saviors, who include his veterinarian, Dr. Paul Benzimra of Nice.
Voltaire wasn't one of the cats that are dumped on the highways with an ear cut off so they can't be identified by their tattoo markings, or one of the dogs left tied to a tree or one of the indoor cats thrown out and left to fend for themselves outside.
Dominique, who is now my friend, helped save Voltaire. He had been living in an apartment in the old section of Nice, near me, with a family who one day up and left forever. They took their dog but left Voltaire inside the locked apartment, without access to food or water, except the toilet bowl, for at least one month, probably two.
A neighbor told Dominique that Voltaire had been an especially beautiful cat and she couldn't understand why his family had left him behind. But I later found out that Voltaire was elderly, at least 14 years old, and had chronic renal failure as well as congestive heart failure.
"Do you get it, American? Even if was handsome once, I was older and sick and no longer worth having around. It was time to get rid of me."
Voltaire somehow managed to escape and when Dominique found him, she said he was like a skeleton covered with fleas. He sat patiently as she plucked the fleas off him.
Dominique brought him to a tiny animal shelter in our neighborhood run by an old woman named Mirielle. I met him there in October 2011 and began visiting him regularly. At first I thought there was no point in adopting him since he was old and sick.
But he was so beautiful and spirited that I decided to take him home in December. My goal was to give him a wonderful life for as long as he had left.
Voltaire had the run of my penthouse apartment in a 400-year-old building. He sunned himself on the huge circular terrace. He ate only the finest food, shunning the cheap supermarket stuff. He seemed to understand immediately that he was like a lost prince in a Disney film who'd been switched at birth and finally found his way home.
His medical problems were ridiculous. His heart disease caused him to cough as if he was dying but it was just because his chest was filling up with fluid. He developed an eye infection right after his arrival that required four different eyedrops six times a day.
We were frequent visitors at the vet clinic and Dr. Benzimra gave me a discount every time.
He was with me almost six months. Americans have a phrase, "Don't quit before the miracle," and though Voltaire was French, he understood the concept. Friends told me I was a heroine for rescuing Voltaire but it was such a gift to have had him. It was more rewarding than adopting a kitten.
I worried a lot about Voltaire's health and when to make the hard decision to let him go. He got sicker and one day I asked him to let me know if he wanted to leave. The next day he showed me he was ready to go and I took him to the vet's office. I held him in my arms the whole time so he was never alone and he got the dignified death he deserved.
I hope at least one of the 60,000 animals abandoned in France this summer is rescued and experiences the same miracle as Voltaire. None of them deserve to be thrown away.