With the one year anniversary of the marathon bombings upon us, I wanted to take a moment to remember what was such a tragic day in history for our fine city. I want to think back to a day in which we lost precious lives and saw countless injuries. It was a day that will haunt us forever and one we will never forget. Even more so, I want to focus on the positives that have come from these events and the true meaning of what it means to be a Bostonian. This is what it means to be from Boston.
Boston is strong. What we lack in size, we make up for in strength. The way in which we came together during such a grueling time and became one only shows our ability to cope and persevere. I may be biased, but I truly believe we are among the strongest of people in the world and we will not back down.
Boston is proud. We may even come across as being too proud at times, or one could even say we're boastful at times. But, it's all with good reason. We've proven to the world that we are united and fearless. The stories of how everyone came together on that day and actually ran toward the explosions are a constant reminder of what kind of people Bostonians are and I couldn't be more proud to call myself one.
Boston is distinguished. We're one of the oldest cities and our history has laid the pavement for a city geared toward success and a promising future. The abundance of amazing schools provide the ability to obtain an education without limitations. The best doctors are trained here and it's no question that our hospitals are the best. It's been said that if the bombings had occurred anywhere else, the outcome would have been far more severe for those injured and the number of fatalities would have been substantially higher.
Boston is beautiful. With our gorgeous views of the bay, our old architecture and breathtaking skyline, we bask in the glory of our incredible scenery. Our winters are harsh, but there's a majestic feeling when the lights reflect off of the snow. There's nothing that screams springtime like the weeping willows and blooming flowers that engulf the commons every year. Watching the sailboats cruising throughout the harbor and cracking open fresh lobster is only a touch of what summers are like in Boston. And need I even mention the incredible foliage that us New Englanders fall in love with every fall? No amount of evil can take away from our beauty.
Boston is fun. We know how to party. We appreciate good music, great food and plenty of entertainment. They don't call us title town for nothing! Personally, there is nowhere else I'd rather spend a summer night than at Fenway Park, with a beer in one hand, a hotdog in the other while belting out the lyrics to "Sweet Caroline." Our sports are legendary and the Boston Marathon will now be only that much more precious to us.
Boston is America. The support we received from across the country at a time that we so needed it instilled in us that we're all on the same team here. During our darkest hour, we didn't grieve alone. We all grieved together. It's when faced with hard times that we remember why we are the greatest nation.
Boston is back. Did we really ever go anywhere? I think that last year only proved that we're not going to let anyone or anything break us. We've come out even tougher than we were before and we'll only continue to grow. We are here, we are one, we are #BostonStrong.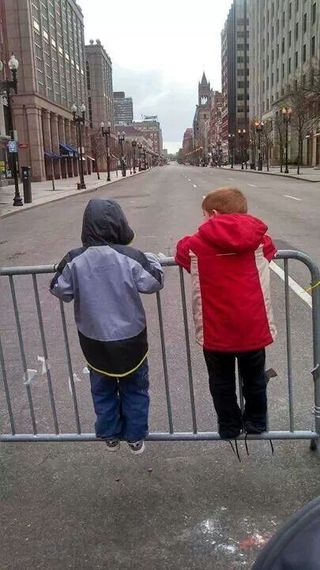 Photo courtesy of Dana King