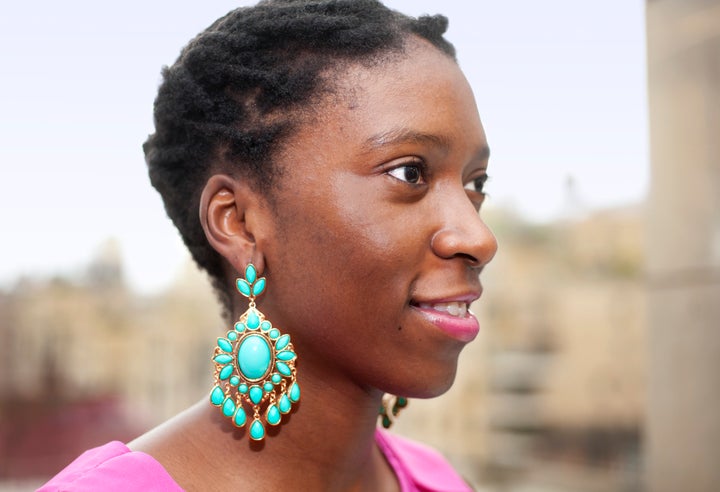 I had my ears pierced just six weeks after being born. As soon as my doctor said it was okay, Mom dressed up my tiny earlobes with 24-karat gold studs. And I haven't stepped out without earrings since.
When it comes to jewelry, I not only like to make a statement, I like to be heard. Before leaving my apartment each morning, I pile on at least three gold bracelets on top of a big face watch -- creating a high-pitched sound similar to steel drums when I move my arms about or place hands on my hips. And while I've recently upped my collection of bib-like necklaces in flashy metals and bright beads, I'm obsessed with heavy earrings.
My infatuation with lobe-bending jewels was sparked by my older cousins Kimberly and Brigetta. Emulating female rappers of the '80s like Salt-N-Pepa, Queen Latifah and Monie Love, they'd snap on thick, bronze door knockers that matched their asymmetrical haircuts. When I begged my mother for a pair, she only gave in to gold hoops. Yet, this was the beginning.
When I entered high school and all the Tommy Hilfiger and Ralph Lauren-dressed guys and girls were bragging about their diamond stud earrings, my girlfriends and I were sporting heavy hoops. From personalized script to puffed up hearts, I was too caught up in the designs to notice the gravitational pull that was occurring. It took nearly splitting my right earlobe while doing a cartwheel for me to open my eyes. So, I stocked up on dainty earrings from Claire's and Rue21.
I adopted an Afrocentric perspective during my sophomore year in college and little studs simply didn't reflect my bold outlook. So, I returned to wearing large earrings, mostly in the shape of Africa and ancient Egyptian hieroglyphics. And I felt more like myself.
As a beauty editor, I opted for jewel drop, tassel and plated styles -- more sophisticated (depending on your definition) but still carrying weight. Then last December, I caught whim of women flocking to plastic surgeons for "lobe lifts," a cosmetic procedure to repair years of damage. Plus, it didn't help that I spent all winter getting my earrings caught in wool scarves and being pulled into my MacBook's magnet screen. It was time for me to give them up.
Six months later, the struggle continues. While my morning routine has shorten and my earlobes aren't as saggy thanks to the simplicity of studs, I find myself giving into the temptation of heavy earrings collecting dust in my jewelry box. Besides, big baubles worn on a Saturday night every so often won't hurt.
Meanwhile, check out the slideshow below of celebrities wearing heavy earrings.
PHOTO GALLERY
Celebs Wearing Heavy Earrings