Hi, my name is Dana and I have knobby knees.
Growing up, I was the skinniest girl out of all my friends. And it didn't matter how many plates of slow-cooked grits, pork bacon and buttered biscuits my grandmother fed me for breakfast; I remained slender. Now, I'm extremely thankful for having a super fast metabolism and good genes that allow me to get away with higher hemlines. However, it took years for me to get comfortable with flashing my knees.
In elementary school, when hunter green and navy plaid uniforms, Peter Pan collar blouses and Mary Jane shoes filled my wardrobe, I had the neighborhood seamstress extend the length of my pleated skirts and drop-waist dresses. This costly change concealed my bruised knees and gave me the confidence to stand at the bus stop without fear of being teased by the boys.
As I transitioned into the middle grades during the baggy jeans era, my sharp kneecaps didn't stand a chance. I had to get a bit more creative (dressing in layers was my secret) on how to keep unkind glares and comments at bay. Yet, my TLC-esque style was unbearable in the South Carolina heat and I'd find myself slipping into knee-length shorts just to avoid passing out underneath the Spanish moss trees.
Then the summer before I started high school, my mother took me to a model casting call (after some serious nudging and a promise to keep it hush-hush from Dad, of course). And even though we didn't act on the "she should go to New York" and "let's sign her now" feedback, it was the ego boost I needed to walk the hallways amongst a sea of curvy, tight-jean wearing girls with my head high in light wash denim skirts and shortalls.
Now that I'm in my 20s and working in the fashion industry (just not on the catwalk), my closet is bursting with brightly-colored dresses and patterned minis--all to show off the pointy shape of my knees and the scars left behind from playing hopscotch and jump rope on crooked sidewalks.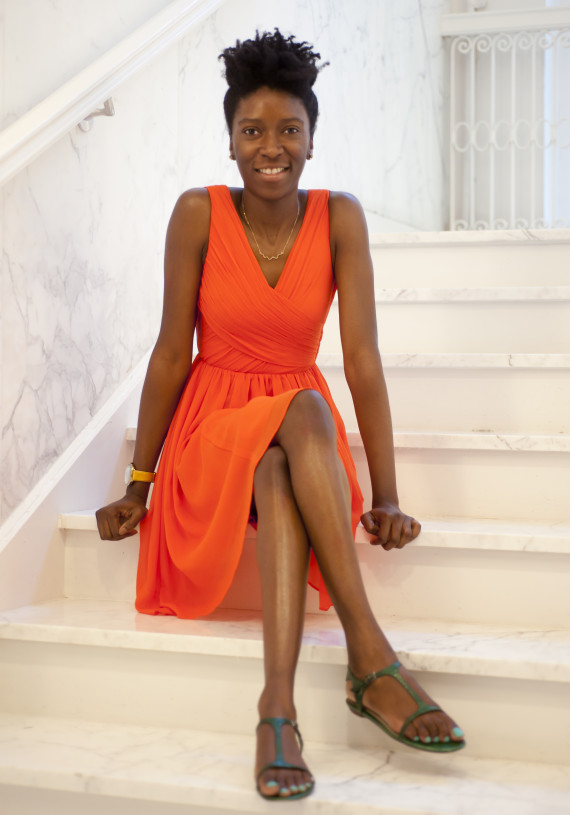 Me and my knees. Photo: Raydene Salinas
Want more? Be sure to check out Stylelist on Twitter, Facebook, Tumblr and Pinterest.
BEFORE YOU GO