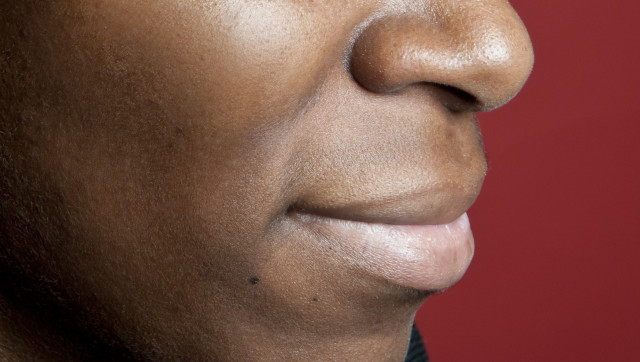 Much like Dexter Morgan, the lead character of Showtime's serial killer series, I go about life with a "dark passenger" in tow. Except what's haunting me isn't a well-kept secret. My peach fuzz looms above my bright red lips for all those close enough to see.
Once I reached the it's-okay-to-step-outside-my-parent's-house-wearing-lipstick age, I was mostly concerned with getting my brick red lip color to stay put the entire school day. (Though I recall many times asking for bathroom passes to go check my front teeth.) But it wasn't until I caught my roommate in boarding school wearing facial hair removal cream(and managed to whip out my bulky digital camera to capture it) that I began to consider my very own peach fuzz. Was I going to have to set my alarm clock an hour earlier now just so that I had enough time to groom my facial hair before my 9AM non-fiction writing class? And how would I know if I was doing it correctly?
I had escaped taunting and teasing as a teenager over my upper lip hairs because they didn't stand in stark contrast to my chocolate complexion. And with all of the different natural hairstyles that I experimented with (even well into college), the attention was diverted elsewhere.
Still I made an effort to tackle the tiny hairs above my lips with hair removal creams like Nair and Veet and cheapie eyebrow razors from the dollar store. You could hardly tell that anything sprouted there by the time I was done, and the bareness seemed to make my red lipstick standout even more.
But what I could do without was the pain and irritation I suffered from after slathering on hair removal creams. I remember one dreadful time when I attempted to take care of my peach fuzz and hairy legs all at once. However, I forgot to wipe away the product from my upper lip and ended up with quite the chemical burn. I had to use concealer for about two weeks to cover up my skin discoloration. (It hurts just thinking about it.)
Gradually, I started to care less about the prominence of my peach fuzz. (Though I'll admit it's never reached Frida Kahlo's level.) Heading straight for the door without concealing or removing my "dark passenger" has become quite freeing. With every swipe of MAC Ruby Woo or NARS Luxembourg, my confidence rose and anxiety fell. And I've yet to hear any complaints or get unwelcomed stares when I'm on a date. (Because yes, a part of me still does care what the opposite sex thinks.)
Resisting the urge to check out my peach fuzz in the tiny mirror on my office desk is still something I'm working on, however, you won't catch me covering my mouth out of shame.
While I've made peace with my peach fuzz, I still prefer it on the fellas:
PHOTO GALLERY
Celebrity Male Facial Hair
Want more HuffPost Style beauty content? Check us out on Twitter, Facebook, Tumblr, Pinterest and Instagram at @HuffPostBeauty. (For everything else check out our main HuffPost Style Twitter, Tumblr, Pinterest and Instagram @HuffPostStyle.)
---
Do you have a beauty story idea or tip? Email us at beautytips@huffingtonpost.com. (PR pitches sent to this address will be ignored.)