I hosted an unusual dinner party at my apartment last weekend; my friend, Agathe Roncey, was responsible for bringing all of the food. As soon as she arrived with a big bag of spices and raw vegetables, she had to turn around and leave to cook with a different crowd back at her apartment. These weren't just dinner parties for Agathe; they were product demos.
Agathe is one of a four member team at Chefday, a grocery and recipe delivery service operating out of a loft in Bushwick. The co-founders, Julien Nakache, Laurent Moisi, and Vincent Marger (all Parisians), launched their product in December 2012. This is how it works: (1) the customer chooses from a selection of easy recipes from top Chefs in NYC; (2) Chefday pre-measures all of the ingredients and delivers them to the customer's home or office; and (3) the customer prepares the meal aided by Chefday's step-by-step videos and paper recipe cards.
For friends of the company and the press, someone from the team will hand deliver your Chefday meal and walk you through the concept. Agathe says they prepare approximately 100 meals each week, and she's hoping they'll hire a delivery service soon to keep up with increasing demand.
I ordered stir-fried green bean vermicelli for four people. The purported total cooking time was 25 minutes (though in my 2-flex-3 apartment, with two small cutting boards and scarce counter-space, the food prep took a lot longer). The Indian-inspired dish was gluten-free, and even though no one in our group had a food allergy, I could see how ordering a meal from Chefday would be very attractive to those who do. All of the ingredients are clearly labeled and packaged separately.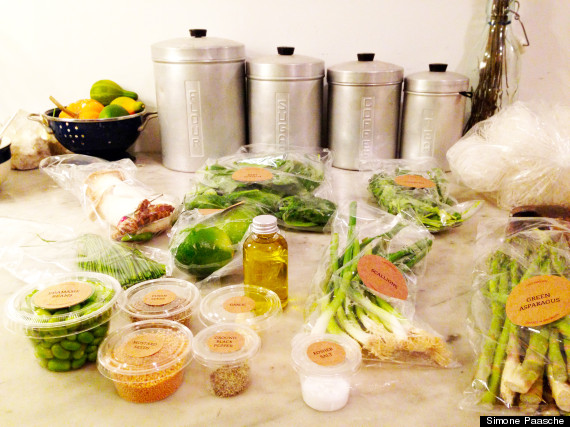 In addition to transparent packaging, Chefday helps customers understand where their food comes from. Chefday uses the same high-end food wholesalers and farmers that serve the restaurants of the featured top chefs in New York City. Our finished product looked surprisingly like what was promised on the website:

In 2007, a company called Miggasfrid was first to introduce the concept of delivering exact ingredients for dinner to peoples' homes in Sweden. Their model, which has proven so successful in Europe, aims to simplify dinner chores without sacrificing quality or nutrition. Households subscribe to grocery bags, which are filled with enough ingredients for several dinners at a serving size you choose. Ideal for young professionals and busy parents.
Chefday, a newcomer to the recipe-delivery-service game, is unique in that they focus on a community cooking experience. Their recipes are designed to impress and contain a lot of exotic spices, things a novice wouldn't have in the spice cabinet (Raw turmeric? King mushroom? Cumin Seeds?). We opened a bottle of wine, played some tunes (Chefday is working on Spotify playlists to cook to), and watched the video of Chef Jehangir Mehta in action.
There are currently five other recipe delivery companies serving New Yorkers: Guosto, launched in 2011; GrubKit, April 2012; Hello Fresh, Jan. 2012; Blue Apron, Sep. 2012; and Plated, Dec. 2012. These companies follow the European model, offering a grocery bag filled with meals for the week. For example, Plated members must order at least four plates per week or month, which cost $15 per plate or $60 total. The price per plate falls as members order more meals. Blue Apron requires members to order 3 meals a week at $9.99 a plate, and provides a choice between servings of 2, 4 or 6 (for a minimum price of $60).
Chefday is more of a special event, like dining out, rather than a weekly grocery service. Chefday plates range from $11.80 (for eight people) to $17 (for two), and you can order on a meal by meal basis. Agathe says they will be offering wine and dessert pairings soon, which will add to the feeling of fine dining at home.
Shameless V-day plug: Chefday is accepting orders for the Valentine's Day until 11:50pm the night before, so if you're a jaded diner or you left your dinner plans until the last second, try it out and let me know what you think in the comments below.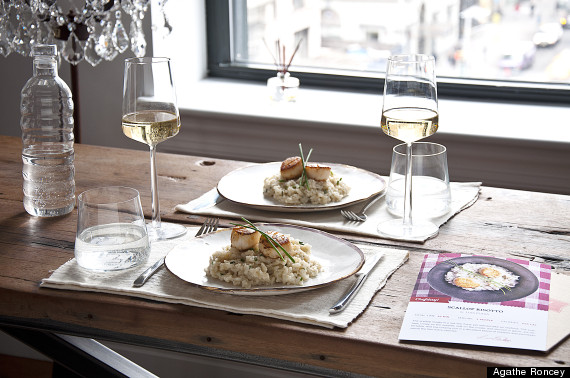 Also, if you take a picture that rivals the one above of your Chefday meal (or the one my crew took of the vermicelli), you could win a $100 dinner at the chef's restaurant. Tag '@Chefday' along with your photo on Instagram, Facebook, or Twitter.