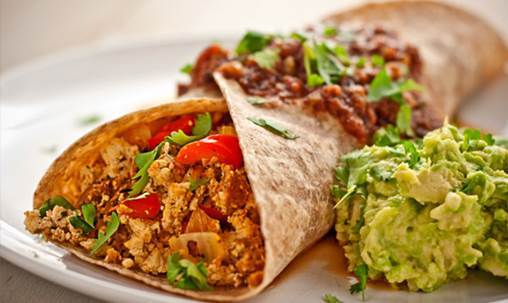 Photo courtesy of TheVeganRoad.com
With the promise of sunny skies and warmer weather ahead, I start fantasizing about bucolic picnics and leisurely outdoor feasts with my kids. But ask your teenagers how they'd like to spend a free weekend moment and their top five choices will likely have nothing to do with you.
In my house, a delicious home-cooked meal always lures. But how do you pull it off during a hectic week? It's the question I get asked most in my cooking classes. If your weeknight dinners are a struggle (as mine are), consider Sundays.
The one day of my week that's not booked solid, Sundays are my favorite time to peruse a farmers market, stock up for the week ahead, and linger in the kitchen. Armed with plenty of unprocessed ingredients and some tasty, reliable recipes, I recruit whoever's willing and get cooking.
Here is one easy recipe to try on a lazy Sunday afternoon. Inspired by a dish from the ever-popular Chipotle, Sofritas ("sautéed" in Spanish) is a hearty Mexican stew that's packed with chiles and spices. This hearty vegan version, served over brown rice or quinoa, inside a taco shell, or nestled into a breakfast burrito along with guacamole and cheese, makes a scrumptious meatless meal in a snap.
The spice mix called for in the recipe is a versatile seasoning that can also be sprinkled on fish or meat before grilling, any vegetables, baked potatoes and tortilla chips. I like to make a large quantity to save for later or to give as a lovely homemade hostess gift. The tofu (buy organic if available to avoid GMO's) gets a quick simmer in a flavorful beer broth, yielding a feisty brew that's surprisingly family-friendly.
Cook up a double batch of Sofritas and you'll have several of the week's meals locked and loaded. The leftovers will keep in the fridge for days and, in fact, taste even better over time. Good news for anyone hoping to cook up some fresh family togetherness this season.
Serves 4-6
Farmgirl Mexican Spice Mix
½ teaspoon dried oregano leaves
2 teaspoons ground ancho chile powder
1 teaspoon ground cumin
½ teaspoon ground coriander
½ teaspoon kosher salt
Sofritas
1 tablespoon avocado oil or olive oil
½ medium onion, diced small (about 1 cup)
2 cloves garlic, minced
1 teaspoon minced chipotle chiles in adobo sauce (add more if you like spicy)
1 tablespoon diced mild Hatch chiles
1 tablespoon Farmgirl Mexican Spice Mix
2 tablespoons tomato paste
1 (16-ounce package) organic extra-firm tofu, drained, dried well and crumbled
1 cup of your favorite Mexican beer
Fresh lime wedges, for serving
1. Prepare the Mexican Spice Mix: Combine all the spices in an airtight container and shake to combine.
2. Prepare the Sofritas: Heat a cast-iron skillet over medium heat and warm the oil. Sauté the onion and garlic with a pinch of salt until softened, about 5 minutes. Add the chipotle peppers, chiles, and spice mix, and continue cooking and stirring until the spices are fragrant, about 1 minute.
3. Add the tomato paste; cook another minute. Add the crumbled tofu and beer and cook until the liquid has reduced and the flavors have melded, about 5 minutes. Taste and adjust the seasoning as desired. Serve with rice or tortillas and fresh lime wedges.
Dana blogs as the Beverly Hills Farmgirl about healthy cooking and living at www.90210farmgirl.com.