Taking the NFTE Business Class offered at my high school, I have become an entrepreneur, as the CEO and President of Don Real Masterpieces, a custom-order handmade scarves company. Recently, my business class took a trip to Harvard University to sit in an actual graduate business class! It was exciting to get a feel of what not only what a graduate class was like, but of what college was really like.

Our trip to Harvard University was definitely an inspiring one. From the moment the bus arrived at the campus grounds, I was immediately mesmerized. I felt excited as I took in the school, and was in absolute awe. Harvard was one of the most beautiful places I have ever visited, and I could not wait to see the rest of it. My class was scheduled to sit in a graduate entrepreneurial class at 8:30 that morning, courtesy of Mr. Steve Mariotti, the founder of NFTE. As my classmates and I filed into the classroom, I was excited about the idea of sitting with adult students in a real graduate class, at the top-ranked university in the country. Professor Fernando Reimers' lesson was very interesting. He taught me something very true: as an entrepreneur, you are bound to face many challenges; however, the key to success is to never lose sight of what you are working towards. Keep the vision. If you have people working with you or for you, make sure that they are aware of your vision and trust them to help you achieve your business goals.

After class let out, we were given a small tour of the history of the university, its various schools and buildings. My class later presented the business slides of our individual businesses that we have been working really hard on to a handful of Harvard graduate students. Our three judges were very straightforward with the feedback. It was very helpful hearing their suggestions. This will definitely help us on our paths to future success.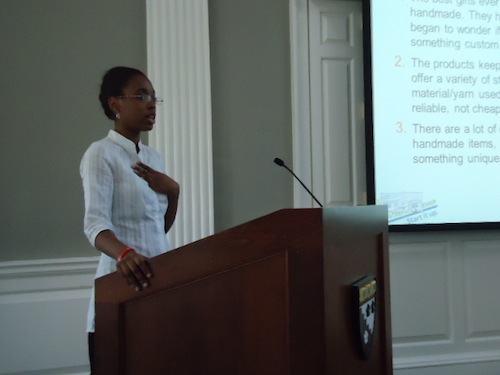 NFTE Student, Daneesha Murrain presenting her business, Don Real Masterpieces at Harvard School of Ed.

When our presentations ended, we walked around the rest of the campus. We crossed over to the School of Business, and walked around the Innovation Lab on-site. What made this visit all the more magnificent was that there were entrepreneurs at work! They all looked determined and very serious. Their progress and thoughts were written on the dry erase boards and pillars that wrapped the walls.

I was always curious about Harvard because it always seemed out of reach for me. The students that we had the chance to meet were beyond friendly. They made me feel like I was part of the student population. They pulled us into conversations, asked us about our lives in New York, and our plans for the future. I have never felt so welcomed in all my life, and I loved the experience of meeting new people. The people who made it all possible and my classmates made it a special memory that will remain with me forever.

I was beyond impressed by what I witnessed that day. It further fueled my own determination to continue with my own business. But most importantly, it motivated me to continue on with my education after high school.