This was a question posed as part of a community weave set up by Weave the People before the Wisdom 2.0 Business conference in New York recently which I reflected on in my last post. We were all asked to type in three names which was used to create the wordle below.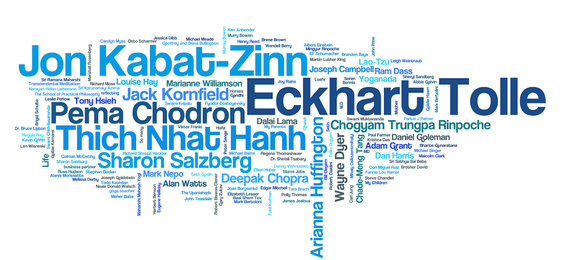 The conference theme was exploring innovation, mindfulness and purpose-driven work, which helps make sense of the most nominated wisdom teachers in the wordle (bigger font size = more nominations).
Eckhart Tolle, author of 'The Power of Now', received the most nominations. I've heard his name come up very regularly in this space and would love to hear him in person one day. He will be in Sydney later this month for a Wake Up Project event.
It was timely for me to see Jon Kabat-Zinn as an influential teacher as I am currently experiencing the great Mindfulness Based Stress Reduction (MBSR) program he developed being run at my workplace IECL.
I was pleased to see Daniel Goleman (Emotional, Social and Ecological Intelligence), Adam Grant (Author of 'Give and Take') and Tony Hsieh (Author of 'Delivering Happiness' and CEO of Zappos) appear on the wordle as they are all current inspirations for me.
Perhaps my greatest delight was to zoom in and see "my children", "my parents", "yoga teacher" and "brother David" represented. I reflected that although I am inspired by lots of the great authors and thought leaders on the wordle they aren't necessarily my greatest teachers of wisdom. I took some time to think back to my childhood, such a key time for development, and discovered my Dad is one of my greatest wisdom teachers. Here's what I've learnt from him and try to live by:
Welcome everyone and be kind. My dad is a Yorkshire man and greets everyone with the customary 'Ey Up'. He wishes people good morning on his country walks and will always chat to new people at social events such as BBQ's. I have come to believe being kind is one of my most important values and welcoming new community members can really make a big difference to people's lives and our own wellbeing.
Patience is a virtue. I vividly remember standing by the deli counter at Sainsbury's supermarket as a young girl in the UK, impatiently waiting for our order. My Dad said 'Patience is a virtue' and I said 'What's a virtue Dad?' This was an important lesson for me and one I am always refining. The Ironman triathlon I completed earlier this year was a great developer of patience as is the mindfulness journey I'm currently on; learning to respond wisely versus reacting blindly!
Don't ever take yourself too seriously. My dad never takes himself too seriously and has instilled this into me and my sister. If we ever got too big for our boots growing up we would receive a reality check. His motto is you've got to have a laugh and enjoy life. He still has childlike tendencies and I remember him playing knock up ginger* in our hotel after my university graduation!
Power of reflection and quiet time. When I was growing up my Dad enjoyed long solitary walks and reading books. At the time I didn't understand the importance of this quiet time and thought it was only something introverts enjoyed. Now I thrive on it and welcome periods of quiet, reflective thinking time. A team of IECL colleagues and I have been participating in the Yoga Foundation's Corporate Quiet Quest in October which has yielded powerful personal results.
Carpe Diem - "seize the day". This is a phrase my Dad uses regularly on text messages to me in Australia, always encouraging me to make the most of everything and enjoy every moment. This mindful way of living helps me make the most of every new experience and not spend too much time worrying about rehashing the past or rehearsing the future.
Thank you Dad for your continued words and actions of wisdom!
I would love to hear who your three greatest wisdom teachers are and what you have learned?
*Knock up ginger is a prank game dating back to 19th Century England which involves knocking on the front door (or ringing the doorbell) of a victim, then running away before the door can be answered!
Image Citation: Wisdom 2.0 Business