This week, The Foundation of AIDS Research (amfAR) held their 5th annual Inspiration Gala at the beautiful Plaza Hotel in New York City to raise funds and awareness for their continuing dedication to end the global AIDS epidemic through the support of AIDS research, HIV prevention, treatment education, and the advocacy of sound AIDS-related public policy.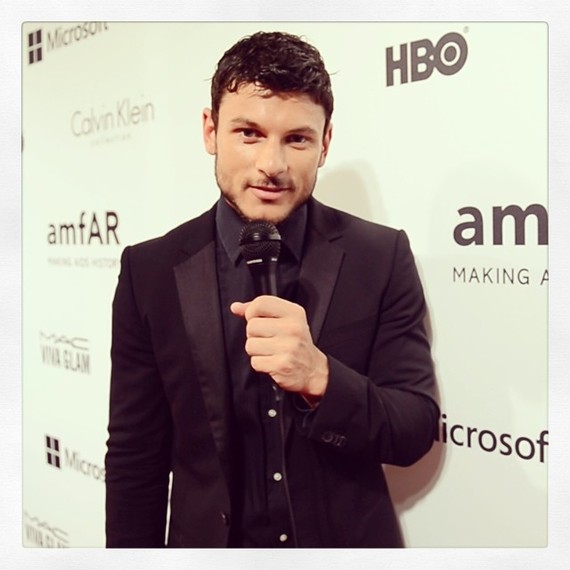 The flawless Josh Wood-produced black-tie event, hosted by actor Josh Duhamel, attracted celebrities of the fashion and entertainment world including Orange Is The New Black actress Laverne Cox, European Editor-at-Large of American Vogue Hamish Bowles, Grammy Award winner Fergie and actor Zachary Quinto. After a few cocktails, guests were presented with a menswear designer fashion show featuring male models Alex Lundqvist, Tyson Beckford & The Stenmark Twins in original print-themed looks by Ferragamo, Thom Browne and Mr. Turk. After the runway show, guests dined with amfAR Chairman Kenneth Cole and amfAR CEO Kevin Frost for a live auction to further contribute to the $388 million already raised by amfAR since being founded in 1985 by Dr. Mathilde Krim. Sarah Jessica Parker presented an Inspiration Award to HBO President of Programming Michael Lombardo, while Matt Bomer, star of HBO's The Normal Heart, honored Calvin Klein for their support and contribution to the foundation which was accepted by the companies Men's Creative Designer Italo Zucchelli and Womans's Creative Designer Francisco Costa. The HRH Crown Princess Mette-Marit of Norway was also honored by Vogue Italia Editor-In-Chief Franca Sozzani. The gala was highlighted by a performance from the band New Order.
The gala is a reminder that although much progress has been made, the disease still affects millions around the world from all walks of life and has killed an estimated 21.8 million including 4.3 million children under 15. The Normal Heart may have educated us on how events unfolded when the virus first became known but, as one of the world's leading nonprofit organizations, amfAR celebrates its success in funding more than 3,300 grants to researchers around the world working to find a cure. amfAR's undeniable accomplishments in helping to provide the 36 million people living with AIDS today with the medicines to live a longer and healthier life gives hope that there is an end to such a crisis.
amfAR's "Countdown to a Cure for AIDS" is a research initiative is designed to intensify amfAR's cure-focused HIV research programs and aimed at finding cure for HIV by 2020. Until then, the organization continues to host events around the world.