During the week that marked 31 years since the first observations of the AIDS virus, the American Foundation of AIDS Research (amfAR) held their annual Inspiration Gala, with an evening of celebrities, fashion, and music to raise funds and awareness for their continuing dedication to end the global AIDS epidemic through innovative research.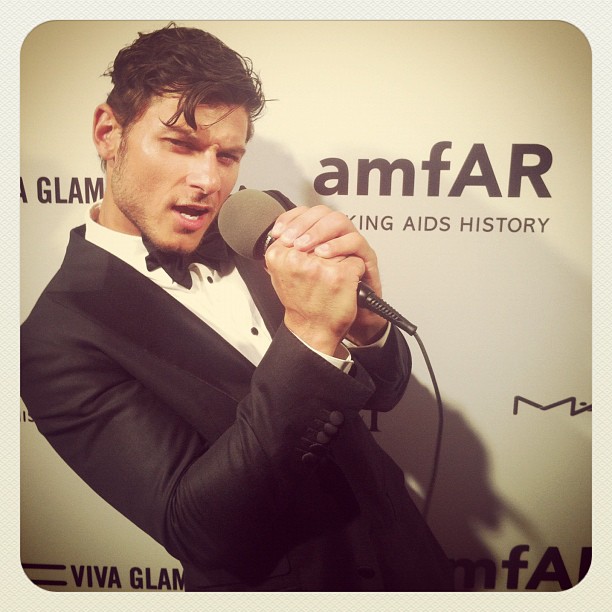 Held at the New York City Public Library, the black-tie event, co-hosted by actress Rose McGowan and singer/actor Cheyenne Jackson, received an athletic twist with a men's designer fashion show inspired by the Olympics, featuring gold medalist diver Greg Louganis and rugby star Ben Cohen along with male models Chad White, Cory Bond, and Andrea Preti. After the runway show, guests including the iconic Debbie Harry and designer Marc Jacobs dined with amfAR Chairman Kenneth Cole for an auction to further contribute to the $340 million already raised by amfAR since being founded in 1985. Oscar winner Hilary Swank honored Marc Jacobs Int. president Robert Duffy and Grammy-Award-winning artist Fergie for their support and contribution to the foundation with the Piaget Award of Inspiration. The succesful Josh Wood production was then highlighted by a performance by Scissor Sisters.
The gala is a reminder that although the worst days of AIDS are over, the disease still affects millions around the world from all walks of life. We often hear the stories of the 1980s, when friends attended funeral after funeral, losing their loved ones to AIDS quicker than they were diagnosed. AmfAR's success can be measured not only by their funding of grants to more than 2,000 researchers around the world working to find a cure, but also by the undeniable accomplishment of helping to provide the 33 million people living with AIDS today with the medicines to live a longer and healthier life than ever before, causing many people, like me, to not realize how close to home the disease hits.
While a cure is inevitable, the organization continues to host events around the world, as a continued reminder of the global impact of this epidemic and the importance of education, research, and support.