Once, during a trip across this land, The Foodcommander was served warm chocolate chip cookies on a Midwest Airlines flight. The acrid smell of artificial butter flavoring and cloying imitation chocolate extract was wafting through the coach cabin whose extra-wide seats suddenly seemed less a generous gesture than a necessary accommodation for obese travelers. The stewardess beamed, passengers cooed and The Foodcommander felt nauseous.
Chocolate chip cookies are, like the hamburger or the hot dog, quintessentially American. They are ingenious in their rough simplicity and nonchalant lack of decorum, proudly affluent in their overabundant use of sugar and fat, and completely egalitarian in the sense that baking them does not require any special skills. In fact, a reliable recipe is likely to be found on just about any package of chocolate chips.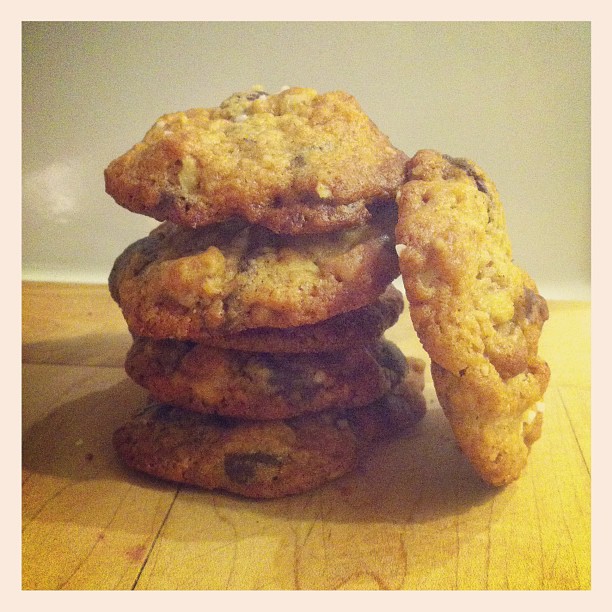 So how come people still make a fuss over baking a batch of chocolate chip cookies from scratch? It takes barely 5 minutes to assemble the simple dough, another 5 minutes to drop a couple dozen dollops of it onto parchment-paper lined sheet pans, and less than 15 minutes baking time until they're golden, crisp and ready to eat. And yet, whenever people walk in on The Foodcommander doing just that, they go into hysterical bouts of ecstasy, screeching, "He's making them from scratch!" After devouring the offerings they will inevitably beg for the recipe and swear they will soon make their own batch. But the Foodcommander knows that they are more likely to end up stealthily purchasing ready-made cookie dough at places like Trader Joe's, in other words places who trade in making you feel as if you were doing things from scratch. Yes, it turns out Americans also like shortcuts and convenience, which is the dark flipside of their ingenuity.
And so, The Foodcommander's first seasonal offering is a challenge: He is urging you to make cookies that are decidedly un-American, won't ever be available as a semi-homemade commercial product, and will never be served on a plane. As a matter of fact, you won't find these cookies for sale anywhere in America, ever. They hark back to a long-gone time when home-bakers took pride in mimicking the sophisticated offerings of the grand European pastry shops of the Nineteenth Century. Making them, then and now, is labor-intensive and demands patience and dedication. Follow the recipe and you will be flying high for all the right reasons.
Spitzbuben (pronounced: Sh-pits-boob'n)
(German: Rascals; presumably named so because only little rascals would dare to sneak one of these delectable cookies out of the cookie jar without mother's permission)
Ingredients (makes about 100 small cookies)
For the cookie dough
- 3 cups all-purpose unbleached white flour
- 1 1/4 cups white sugar
- 1 vanilla bean
- 3 sticks unsalted butter, softened
- 2 cups whole almonds
For the filling
- 2 cups red currant jam
For the glaze
- 3 cups confectioner's sugar
- 1 egg white
- A few tablespoons of dark rum
You will also need a food processor, parchment paper, a squeeze bottle, a pastry bag with a small round tip, and a tin box for storage.
Preparation
Pour the sugar in to a mixing bowl. Split the vanilla bean in half lengthwise, scrape out the seeds and rub them into the sugar with your fingertips until the small seed lumps have dissolved and the sugar is highly fragrant. Store the leftover vanilla pod in your sugar container, it will continue to impart flavor.
Place the almonds and the vanilla sugar into a food processor and pulse-process to a fine powder. Transfer the mixture back into the mixing bowl, add the flour and butter, and kneed all ingredients together until you have a smooth dough (congratulations if you own a stand mixer with a dough hook to do this hands-free). Split the dough in two, flatten the portions into thick round disks, wrap them into cellophane and chill them for an hour.
Pass the red currant jam through a fine mesh sieve to remove the seeds. Fill jam into the squeeze bottle.
Line several sheet pans with parchment paper and preheat your oven to 350˚F. Working in batches, roll out the dough to about 1/8 inch thickness. Cut out rounds of 1.5 inches diameter (a small glass will do if you don't have the right-size cookie cutter). Turn half the rounds into rings (use the small glass tube the vanilla bean most likely was sold in to cut out the center). Bake for about 8 minutes until light golden brown. Repeat until all the dough is used up.
Align cooled down round cookies on a sheet pan, upside down. This is an important detail: only the porous underside of a baked cookie will absorb the jam enough to give it that melt-in-your mouth texture - you wouldn't make a sandwich by spreading the butter on the crust either, would you? Apply a dollop of jam on each cookie and top them with the cookie rings, pressing down lightly.
Pour the confectioner's sugar into a mixing bowl. Make a well in the center, add the egg white and a couple tablespoons of rum and stir, working from the inside out, to get a smooth, relatively firm glaze. Add more confectioner's sugar or rum to adjust the texture if necessary.
Fill the glaze into the pastry bag, and squeeze a small circle onto each cookie ring. Let the glaze air-dry for several hours or overnight. Once the glaze is dry to the touch, carefully place the Spitzbuben in a parchment paper-lined tin box, stacking them between sheets of parchment paper. Store in a cool and dry place (but not in the refrigerator). Never store cookies in an airtight plastic container!
Note: Spitzbuben benefit from a resting period of at least a week, by the time of which they will have achieved the right melt-in-your mouth texture.