Sometime after the release of Buke and Gass's Riposte in 2010--a striking first impression of a record--the industrious DIY duo did something confusing: they changed their name..slightly...to Buke and Gase. On General Dome, the second full-length album released on January 29 via Brassland, what seems like a simple cosmetic change for pronunciation's sake is emblematic of the band's fuller realization of its own sound.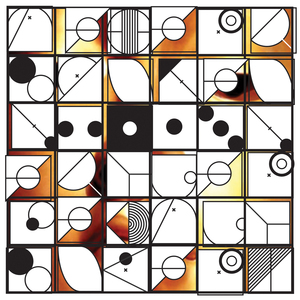 Album art for Buke and Gase's "General Dome"
Buke and Gase's music has always been what one could loosely call "avant-garage rock." But that term is deceiving and overly reductive, and does nothing to explain what has made the music so compelling: the interlocking edginess of the instruments--Arone Dyer's amplified baritone ukelele ("Buke") and Aron Sanchez's versatile guitar-bass hybrid ("Gase")--combined with exuberant, groove-laden melodies and serpentine rhythms that expand and contract like pulsating organisms.
Apparently, the musical feel of Riposte was merely an approximation of the ideal Buke and Gase sound, and not its full manifestation. As noted in a recent press release, Dyer made the switch from the wooden ukelele heard on the debut record to a new instrument made, at least partially, from re-purposed car parts. The more one listens to General Dome, the more dramatic the resulting evolution of the band's sound comes.
There is part of me that misses the anachronism of the old "buke," a humble acoustic instrument supercharged with amplification and effects pedals. Its odd quality lent itself naturally to idiosyncratic hooks that churned with tension and shimmered pungently with equal measure.
From the album opener "Houdini Crush" onward, the homemade instruments sound like they've been welded together, their individual timbres now completely in sync. If Buke and Gase created dense compositions with prog-like tendencies before, the music of General Dome boasts a crunchier core of harmonies and more streamlined song forms now. "Hard Times" is as concise as it is catchy, featuring a chorus that is as undeniably pop as you're likely to find.
Elsewhere, the band employs triple meter liberally, in songs like "Twisting the Lasso of Truth," which projects a buoyant waltz before it begins to snarl with sudden rhythm changes. The instruments mimic sardonic laughter, and the whole thing threatens to derail like a beautifully deranged carousel ride.
As a whole, General Dome is absolutely stunning in its rhythmic variety--the downbeat is constantly being disguised, obscured, and altered--without ever losing the continuity or momentum of each individual song. To that end, the use of tambourine, bass drum, and jingling feet percussion are still integral to the sound; they lend a march-like quality to the propulsion of the music, particularly in "Split Like a Lip, No Blood on the Beard." Clever time changes populate the witty "Hiccup" with infectious results.
The musical chemistry showcased here, as in Riposte, is awe-inspiring. With this new collection of songs, however, Arone Dyer and Aron Sanchez have trimmed their sound--focusing on a meatier overall timbre and in the process, becoming a leaner, darker and grittier band.
Courtesy of NPR Music, this Buke and Gase concert at NYC's Le Poisson Rouge in October 2012 features the band's honed sound.
Setlist is as follows: "Hiccup" -->"Cyclopean" -->"Misshaping Introduction"-->"Split Like a Lip, No Blood on the Beard"-->"Sleep Gets Your ghost"-->"Tending the Talk"
This article is cross-posted at postpostrock.com.