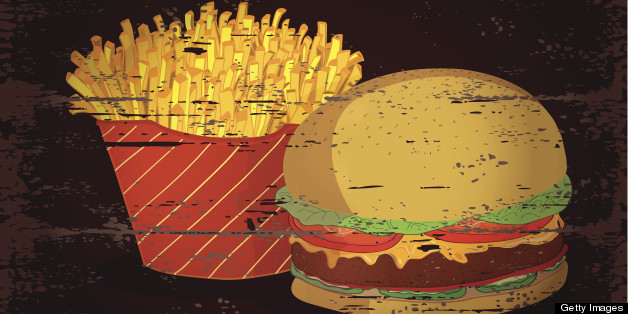 Sports play a crucial role in many lives. In a 2009 Gallup Poll, 56 percent of Americans would describe themselves as sports fans. Well-known athletes help set standards with our cultural norms and consumer choices. As a sports fan myself, my favorite athletes growing up included the usual 90s to early 2000s superstars: Michael Jordan, Shaquille O'Neil, Kobe Bryant and Derek Jeter. I remember watching the Michael Jordan Space Jam McDonald's commercial, which of course included a toy. Advertising like that made a big impact on me as kid, so did the Kobe Bryant McDonald's ads, Derek Jeter Gatorade promotions and the Shaquille O'Neil Pepsi spots. Just like kids growing up today, I had all my favorite athletes telling me to consume sugary beverages and Big Macs. As I have talked about previously, these advertised foods helped contribute to my weight issues as a kid.
When I began my freshman year of high school, I started becoming a fan of high-school phenom LeBron James. LeBron was just wrapping up his much-hyped senior of high school at St. Vincent-St. Mary and was about to enter the NBA. I felt like LeBron seemed like a good guy and was someone who was genuinely kind (as much as I could tell through a television screen). I owned a Cleveland Cavaliers 23 jersey and even attended a game during his first NBA season with my Pops against the Milwaukee Bucks. LeBron took the league by storm and the rest is history: two NBA championships (in pursuit of his third ring currently); four Most Valuable Player awards; and two Olympic gold medals. LeBron James will go down as one of the greatest to play the game. He is consistently listed year after year on Forbes annual most influential athletes list and is currently number 16 on the celebrity 100 list.
Compared to my adolescent role model, Michael Jordan, LeBron James has used his fame for social issues. LeBron has contributed to political campaigns, spoken out about the human rights issues occurring in the Darfur region of Sudan, is a philanthropist for the Boys & Girls Club of America and recently lambasted the racist comments by Los Angeles Clippers owner Donald Sterling. James has even supported Michelle Obama's Let's Move initiative, by appearing in a fun advertisement which somewhat promotes healthy eating (you see him eating an apple during the spot). Unfortunately, LeBron is sending mixed messages to his fans about nutrition.
As you probably know, athletes promote junk food. This trend is not new. In 1934, Wheaties started having athletes appear on the front of the box. One of the most iconic endorsements of all time occurred in 1979, with Mean Joe Greene promoting Coca-Cola. Unhealthy lifestyle choice promotion even goes back to the Yankee legends of Babe Ruth, Mickey Mantle, Joe DiMaggio, Ted Williams and Lou Gehrig, all of whom promoted cigarettes.
The Yale Rudd Center for Food Policy & Obesity recently published a study demonstrating this common knowledge, highlighting the amount of unhealthy foods athletes endorse, including LeBron. Behind only Peyton Manning and Serena Williams, LeBron James was found to have the most endorsements for ultra-processed foods. The study showed LeBron James to be the most influential NBA athlete and also the player who promoted the most junk food out of the entire league. Some of the brands LeBron promotes include Sprite, Powerade, McDonald's and Vitamin Water. Overseas, LeBron James also promotes Dunkin Donuts and Baskin Robbins.
Overall, the study demonstrated that 79 percent of the 62 food products in athlete-endorsed advertisements were unhealthy, and 93.4 percent of the 46 advertised beverages had 100 percent of calories from added sugar. Even though athletes are images of health, the diet they promote does not match this imagery. When kids emulate these athletes they look up to, it creates lifelong customers of foods that can increase risk for harmful diet-related diseases. LeBron James is just one of many athletes to promote soda and burgers, but if the biggest NBA athlete started to stop advertising junk food, this could set an important precedent.
I understand why athletes do it. Put yourself in his shoes. Would you be able to turn down $4 million a year just to promote McDonald's? In spite of this monetary allure, athletes can move beyond this enticement. Does the small $4-million sliver of your $120-million net worth outweigh the health issues attached with McDonald's? Athletes are concerned about their legacies on the playing field, however, imagine if athletes also started to be concerned with the legacies they leave with the foods they endorse?
Of course, we need family members, teachers and everyday role models practicing healthy behavior, too. In the end, these are the actions children see the most often. Nonetheless, just like most important lessons in life, kids sometimes fail to absorb this knowledge and do the opposite of what their parents do. As much as athletes like to say they are not role models, millions of kids do think so. If LeBron thinks apples are cool, so will kids.
Parents, teachers and communities have an uphill battle in improving the nutritional outlook for children. The last thing we need are our health messages being undermined by companies using our children's favorite athletes to promote the exact products we are trying to reduce consumption of. Sadly, this is exactly McDonald's objective with their advertisements.
I have signed the Corporate Accountability International's new open letter to LeBron James, supporting the first step of having LeBron stop marketing nutrient-poor food. Specially, it is important for him to cut his marketing ties to McDonald's. You can read their letter and support the work, here. Join Corporate Accountability International, the Praxis Project, Yale Rudd Center for Food Policy and Obesity, the Center for Science in the Public Interest and many others in telling LeBron James to begin the process of becoming a healthy role model for kids. Please LeBron, be a healthy role model. Just do it.