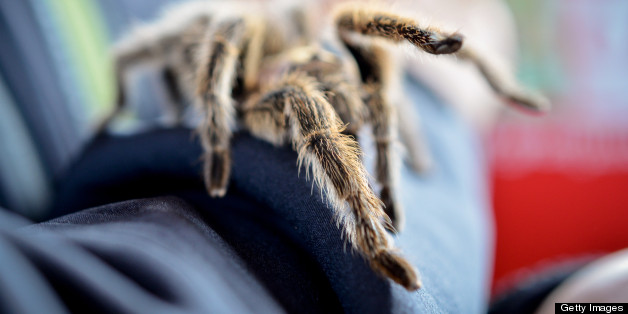 Dan Kennedy is the author of American Spirit ($26/$5, Little A/New Harvest)

At the moment there's a pimp on 10th Avenue with a tarantula on his arm.
I'm walking by hoping to find a place to buy a nice scented candle that's not too expensive since we've got another couple coming over to our apartment for dinner. The pimp smokes a cigarette and pokes his finger at the back of the tarantula so that it takes little lazy strides on the horizon of polyester and rayon, and I want to take a picture of it with my phone so I do this discreetly.
I put on what I consider a mild and polite smile and reach for my phone in my back pocket so I can try to get a snapshot of the tarantula; I think Dave and Vicky will get a kick out of the photo when they come over for dinner tonight. Right as I'm focusing and silently mouthing, "That's great" through a smile, the pimp calls me a "slick little bitch trying to be cute" (?) and the whore standing next to him laughs so hard she chokes on the smoke she has just inhaled seductively.
I simply turn a little bit to my left and act like I'm taking a picture of a poster shop next to the deli these two are standing in front of. Actually, I'm at home eating junk food with the gusto of a goddamn teen runaway because I'm nervous about going out on a book tour, that's the truth, and I'm sick of the truth, and maybe you are too.
I was asked to write something about the difference between writing fiction versus writing non-fiction and I've put off writing this for about two weeks. Two weeks of fairly ordinary daily living that, frankly, don't need to be written about. I'm talking about showers, meals, indecision, paying some bills, wondering where life is headed, laundry, that kind of stuff. And there's probably something in those two weeks to mine for material, there was some domestic travel,
I'm sure something happened in an airport that I could drag under a microscope for an essay but, jesus, can you feel the fucking collective groan from both you and I at the thought of it? On the other hand, in the thirteen years that I've been working with The Moth, I've heard a lot of amazing true stories about airports, so there's that; two airport stories in particular that really changed the way I see life.
I'm a huge fan of people getting on stages and telling true stories, I still do it, and I still host a lot of Moth events all over the country where people better at it than I am walk up onstage and amaze me with their ability to tell compelling true stories. I can't count the times I've started a Moth show closed down in my head, bullying myself with a hurricane of self-involved dread, only to have my heart cracked right open and made human again by the first person to get up and tell an amazing true story live without looking at one note on a page; without having to invent or fake a single note of it.
When it happens, I swear I can feel everyone in the audience being fixed again for at least five or ten minutes and maybe even the rest of the evening or week. And then, at least in my case, normal day-to-day living returns.
In 1999, right around the same month that I got involved with The Moth, I stumbled onto the McSweeney's website. Suddenly day-to-day life was a world where I could invent any number of things; my trademarked system of making a million dollars that involved simply selling sex and heroin; credit card companies that tied people up and subjected them to a constant stream of pornography to keep them strangely aroused by the opportunity to debt despite a 72-hour fight-or-flight panic of being a hostage in the credit card company's van. It's a world where Real Housewives of Beverly Hills sit by swimming pools eating black market baby adrenal glands and burning art.
That last one is probably a bad example of the difference between writing non-fiction versus fiction since it's pretty close to what happens on that show, I suppose. I've spent over a decade telling true stories. And I've spent just as much time telling insane lies about a world of spirited degenerates. And for the moment, I am going out into the real world with a novel I've filled with the latter.
There's a line in the movie "Sideways" where the future father-in-law of Thomas Hayden Church's character asks Paul Giamatti's character if his new book is fiction or non-fiction. The father-in-law says that he prefers to read non-fiction because there's so much to learn in the world that there's simply no need to make things up.
It's a funny scene, the way it unfolds. I've probably seen that movie fifteen times and loved that scene every time. But the last three times when it comes to that scene I always find myself thinking: It's the truth, there's a lot to learn in this world, but sometimes the best way to learn the truth is by making a few things up.