Now that American support for same-sex marriage has risen to numbers as high as 63 percent, gay has become cool. Hundreds of thousands of people turned out to this year's Los Angeles Pride Festival, the 45th annual celebration of the world's first ever Pride Parade, which took place in the City of Angels in 1970.
With growing cultural acceptance for sexual and gender minorities, companies have caught on, strategically launching marketing campaigns directly geared towards the LGBTQ community. The Pride displays at Target stores nationwide this month are just one of many examples. This year's Pride festival would not have been successful without its share of corporate sponsors -- Bud Light, Tito's Handmade Vodka, Delta Airlines, Wells Fargo, Toyota, Red Bull, and Transparent.
While many will applaud these companies' support as a metric of how far society has come, I'm taken aback. Two of these seven primary corporate sponsors are alcohol companies. Instead of lauding Bud Light and Tito's for supporting the LGBTQ community, I am highly skeptical of their intent.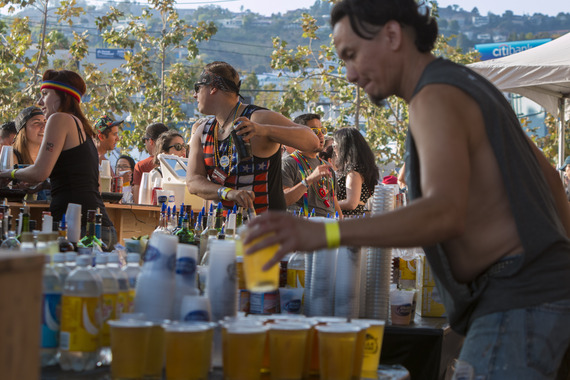 Photo by Adryel Talamantes
It's no secret that alcoholism is a huge problem among LGBTQ Americans. Alcohol abuse is 2.5-5 times more prevalent among LGBTQ Americans than their heterosexual and cisgender counterparts. Public health experts have pinpointed prejudice and discrimination as the roots of this drastic health disparity.
The tobacco industry has similarly capitalized on the higher rates of substance abuse in the LGBTQ community. In no time, alcohol companies have followed in their footsteps. In giving to Pride festivals and using social media to back LGBTQ causes with their brands, alcohol companies are exploiting and endangering the lives and wellbeing of sexual and gender minorities.
The organizers of the LA Pride Festival also deserve a fair amount of scrutiny for opting to accept donations from alcohol companies. While I am sure that the money helped make this year's Pride as successful as it was, the funds will inevitably make their way back into the hands of Bud Light and Tito's -- companies that will no doubt continue to reap the benefits of my community's health problems.
The difficult toll alcoholism takes on LGBTQ individuals was visible to the naked eye at Pride. There was no shortage of passed-out drunk people, aggressive pushing and shoving at the concerts, and I even witnessed a brawl break out as my friends waited in line for a Bud Light.
However, beyond these short-term consequences, many members of my community suffer more difficult effects of the substance. Penalties for DUIs and steep costs for rehabilitation programs are among the long-term ramifications of alcoholism. Not to mention, alcohol consumption increases one's aptitude for high-risk sexual behaviors and injection drug use -- two major modes of HIV transmission.
There is little question that the money used to fund Pride this year will amplify a major problem in the LGBTQ community. Sadly, the presence of alcohol companies marks Pride's loss of its original and historic mission -- defiance.
When Los Angeles inaugurated the Pride festival, Pride was a commemoration of the Stonewall Riots -- a radical act of defiance against a police raid of the Stonewall Inn in New York City. We are fortunate that many sexual and gender minorities now have the privilege of safety and the protection of the police. However, these same issues of police brutality are affecting our peers of color nationwide. This could have been a point of emphasis for Pride, but it seemed that everyone was really just too drunk to even care.
Pride this year occurred on the heels of what's bound to be a historic decision by the Supreme Court regarding marriage equality. While many of my peers will be toasting their champagne to celebrate their same-sex marriages, I'll be thinking about some more serious issues.
Where is the outrage over the death of Mercedes Williamson, the ninth American trans woman who was murdered in 2015? More importantly, where are the liquor companies when our peers are getting murdered? They offer conditional solidarity for same-sex marriage, but nothing but booze to drown our sorrow in the face of adversity. There is much to celebrate, but there is also much to lament.
Perhaps when police brutality ends, when trans murders stop, and when alcoholism is no longer a problem plaguing our community, it'll be time to have a party. For now, I won't be supporting alcohol companies' unethical attempt to take advantage of me or my community. Cheers.