There are several species of human intimacy; the most familiar ones result from kinship, romance, friendship, and work. The last of these is not less than the others. The bond of labor in a shared project is intense. It is prone to decay when the work is done, but while the project is in progress, this bond can draw people as close, in its way, as people can get to one another.
I had occasion to consider this form of intimacy a couple of weeks ago, at the opening of a retrospective of Martha Erlebacher's work at the New York Academy of Art. Born in 1937, Erlebacher broke with the abstract expressionism of her generation to become a lifelong practitioner and advocate of figurative painting.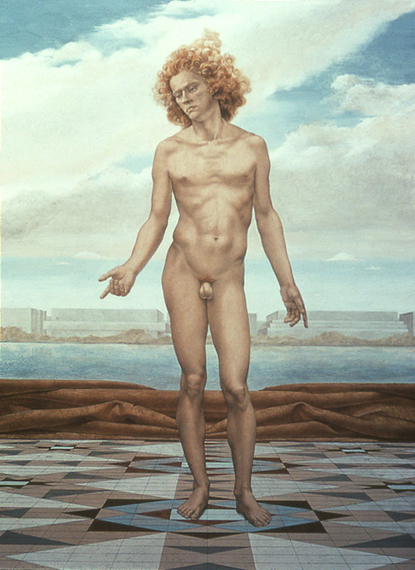 Apollo, 1971, oil on canvas, 69"x51"
She taught at the Academy for 14 years, helping as professor and administrator to shape its pedagogical program. Her students uniformly report her to have been a severe and demanding teacher. Most add that her blazing vision of the fundamental relevance of art to the human condition animated her harsh style and redeemed it. This is what she said about art. It is very sympathetic with my own thinking on the matter:
I think we recreate the visual world as a hedge against death. Every time we make a picture of something we are creating a parallel universe which will outlast us. But it must be stamped with our "form sense". This is the artist's unique formal sensibility, a signature like handwriting. It's the form sense which marks everything we do as our unique creation and drives the "look" of the alternate universe. It is what makes all of Michaelangelo's people live in "Michaelangeloland", or Philip Pealstein's live in "Philipland", sort of an alternate and parallel universe. The implication for mortality is that although we may perish, our "land" will not.
Stricken by cancer, she passed away in 2013. I never met her.
This is actually a little bit surprising. I know a lot of artists, and she was the kind of artist I would tend to know, at least a bit. I knew her work. So I went to the opening of her retrospective, on November 5th. The opening reception was also a memorial gathering. People gather to remember those with whom they were mildly or deeply intimate. This memorial testified to intimacy through work. It was a memorial for a colleague.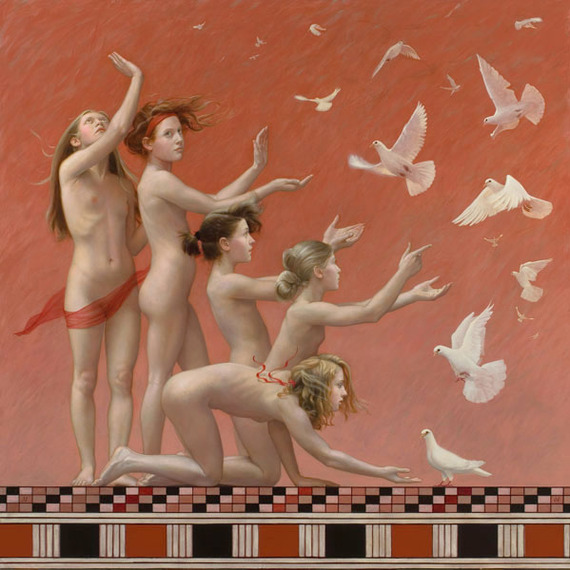 The Cycle of Life, Air, Childhood, 2004, oil on canvas, 64"x64"
I should admit that I am not personally a particular fan of Erlebacher's work. But I am a huge admirer of her ideology and her will: her will to devote herself to the truth as she discovered it, and her willfulness in taking the contrarian path, and her willingness to lend her strength to carrying figurative painting down through the midnight of the scornful, exclusionary art culture of the twentieth century.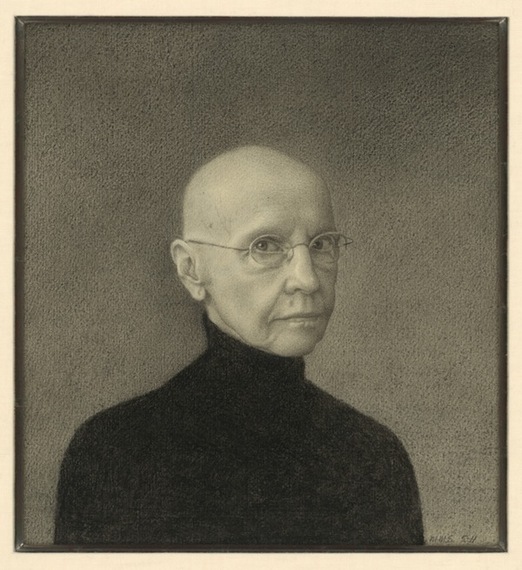 Self-portrait, 2011, Nero pencil on paper, 12"x11"
my favorite of her works
This memorial for a colleague had the character of both sorrow and joy. The sorrow was that sorrow people feel at the loss of someone who meant a lot to them. The joy was the joy of knowing that the work and the idea survive. This is a privilege of people who have devoted themselves in some way to things that outlast them. Where is the hopefulness at a funeral? In the presence of the children or the works of the deceased. Both attended Erlebacher's memorial, and consoled those who lost her.
It is not clear whether my own attendance was in the role of a member of the community which gathered there, or as an observer and witness. At the very least, I did observe and witness. I saw Martha Erlebacher's family, friends, and colleagues come together to say goodbye to her. I'm glad I had this opportunity. It was in the Wilkinson Gallery at the Academy's building on Franklin Street, in lower Manhattan. It was a grand room, filled with color and contrast because it was hung thickly with her paintings. It was a room full of people with whom she worked and whose lives she changed and improved. They did her the best honor they could, and they're the kind of people who are good at honor. Their emotion transmitted itself to me, and I felt it too. We would all be lucky to mean so much to so many, and to have them remember us so, when we have made our way over the horizon.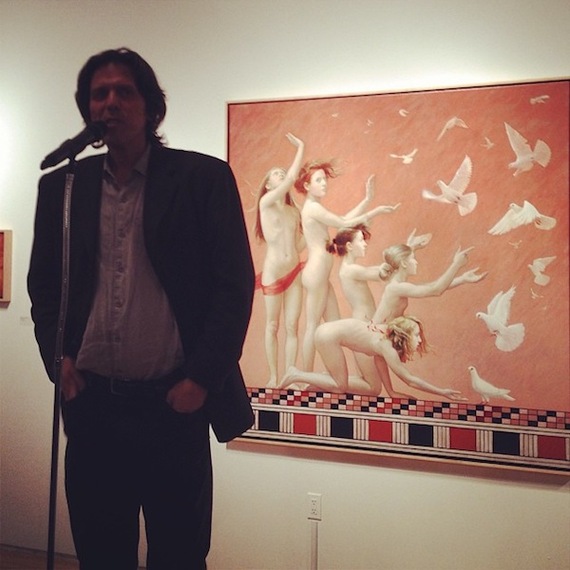 Painter Vincent Desiderio eulogizing Martha Erlebacher at the New York Academy of Art, November 5, 2013
---
All images courtesy of New York Academy of Art and/or Seraphin Gallery
The show is on until November 24th. I recommend it:
MARTHA ERLEBACHER RETROSPECTIVE
Wilkinson Gallery
New York Academy of Art
111 Franklin Street
New York, NY 10013
On view daily 2 - 8 pm or by appointment
Closed Wednesdays & holidays
The Erlebacher quotation comes from the blog of the Vitruvian Fine Art Studio, a Chicago art school founded by her students David Jamieson and Melinda Whitmore, who are fine folks and talented artists.