The customers are gone. Empty red steel chairs line rows of computer desks where they once sat. A tall stack of bills lies on a cracking, worn-out wooden desk that cannot be repaired until business is good again, if that is anytime soon.
For Rigta Khandar, a café and shop owner in Jackson Heights, this is her new economic reality.
"Business has dropped 65 percent this month," says Khandar, 47. "Somehow I paid my rent this month but if things continue like this, I'll be closed down before Thanksgiving."
A decade ago, Khandar took the risk of her life using her savings to open up an Internet café and convenience store on 37th Road between 73rd and 74th streets in Jackson Heights, Queens. Business thrived for years, enough to provide for her and her family. Then her world turned upside down. Without warning, the New York City Department of Transportation made a decision in late September to close 37th Road to pedestrian traffic and re-route the Q-47 and Q-49 MTA bus lines that previously stopped there. Khandar and other business owners did not know what to expect.
"All of my customers would come off the bus in the mornings and stop at my shop to ship packages out and buy phone cards," said Khandar. "I've lost all those morning people. The most profitable part of my business was lost overnight."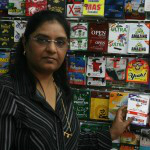 The change came about as a major component of a 21-page list of proposed improvements from the transportation department, a result of a 2-year study funded by$600,000 in federal earmarks and $70,000 from the city transportation department. And it has brought about an outcry from concerned residents and suffering merchants alike and prompted many businessmen to form their own alliance--the Asian American Merchants Consumer and Neighborhood Coalition--to push the city to reopen the street.
"I would say the impact of this traffic diversion has caused the reduction of consumers, customers and the incoming traffic which comes from the Tri-state area in four weeks of more than 60 percent," said Muhammed Saleh, 50, founder of the new coalition and part owner of Café K-2 on 37thRoad. " I don't think the city has realized how drastic these changes could be and how negative an impact it will have to this neighborhood."
The Jackson Heights Neighborhood Transportation Study, as it was known, was launched in Spring 2009 to "address transportation issues that affected safety, mobility and quality of life in the neighborhood," according to a written statement from the office of Congressman Joseph Crowley (D-NY), who administered the funds and allocated the resources for the report.
Councilman Daniel Dromm, Jackson Height's City Hall representative and a key ally of Crowley's, was also a supporter of the study because of its apparent economic benefits and its attempt to fix a decades-long traffic issue along the Broadway-73rd Street corridor, according to community board members and store owners interviewed for this story.
After several efforts to reach the councilman, his office refused to comment on the study or of his involvement in it.
The size and scope of the issue reaches far into the social and economic fabric of this strongly knit Asian-American community. Every conceivable ethnicity from Pakistanis to Indians to Bengalis resides in an area not much larger than a few Manhattan city blocks. Most immigrated to the neighborhood in the 1980's with little knowledge of the culture or the language and many opened businesses of their own ranging from halal stands to high-end sari shops.
According to 2010 statistics released by the city labor's department, the Jackson Heights business corridor is now one of the strongest commercial hubs in New York City, attracting a mostly Asian-American and socio-economically diverse clientele from all around the Tri-state area who come looking for the best Bengali spices to exclusive Indian saris some priced as high as $30,000.
"This is the mecca for Indian business. You go to Sydney or to London and everybody knows Jackson Heights," said Razi Ahmed, 50, a real-estate investor who plans to open a supermarket on 37th Road and one of the biggest proponents of the plan to re-open the street. "I am involved in the effort to re-open 37th Road because everybody is affected by it. This is the bread and butter for over 200 businesses."
The coalition has not had much success so far but its founder, Saleh, remains hopeful that the department will eventually comply with their demands, especially given the severe economic implications for City Hall if businesses were to have to close in the midst of the holiday shopping season.
"We're talking about hundreds of service jobs lost in a very compact area within a few months, that could leave this commercial hub severely depleted," said Saleh. "That's lost revenue for the city, for Jackson Heights and, worst of all, that puts many people out of work in a time where jobs haven't ever been so hard to come by."