The "dream" that Dr. Martin Luther King, Jr., so famously evoked before hundreds of thousands of onlookers on the National Mall and before a weary nation nearly five decades ago was not only a hope for racial and social justice, but one that called for income equality. It was later coat tailed in former President Ronald Reagan's "Shining City On A Hill" metaphor that came to define his presidency and, in many ways, his party.
But, with stubbornly high unemployment, a failing education system and mounting federal debt, has Dr. King's dream truly been realized in 2012?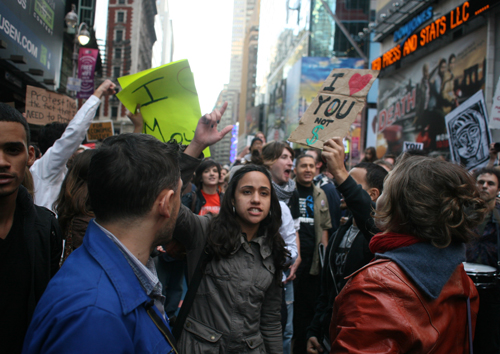 Occupy Wall Street March on October 17, 2011 at Times Square
Photo by Daniel Medina
Income inequality is at its highest point in decades as the nation witnesses a rapidly decaying middle class that Dr. King yearned would one day accept minorities but now is turning many of them away and is doing so at a worrying pace. The most recent statistics from the non-partisan, non-profit public policy research institute, Levy Economics Institute of Bard College, show that the typical white household now has a net worth of $143,600 or about 14 times as large as the typical African-American or Hispanic household.
There is a human cost that goes beyond the numbers. At a time when states are slashing budgets, the result is that fewer minority students are finishing high school and going on to college than even prior to the 2008 financial crisis even though the Hispanic population now totals over 50 million-a startling development that economists warn could create a growing underclass of under-skilled and poor workers that could make the country far-less competitive in the global economy.
That "growing underclass" is trapped in a public education system, long the envy of the developed world, which now ranks 17th in the world just between Poland and Lichtenstein for scores in Math and Science, according to the OECD's 2009 Program for International Student Assessment (PISA) rankings published every two years.
The income inequality gap has grown to almost comedic-like obscenity in the "land of plenty." The Forbes "400 Richest" list of 2011 possesses a net worth of $1.53 trillion -- a figure roughly equivalent to Canada's entire GDP -- which is more than the bottom 60% of the population, roughly totaling 190 million Americans.
The issue, long ignored by both political parties in Washington, has now come to the forefront in this election year. The rise of the Tea Party in 2009 to the Occupy Wall Street movement this past year, both fueled by public outrage to the Wall Street bailouts during the financial crisis and from a general distaste for government in its current form, has yielded a consensus from both these opposing ideological factions: enough is enough.
The Republican debates, all 185 of them, now focus nearly entirely on the economy and anyone from former Penn. Sen. Rick Santorum to former Gov. Mitt Romney has at one point or another touted themselves as compassionate conservatives with the interests of the middle class as central to their economic agendas. They have largely blamed the Obama administration for the current predicament but have done so while very strategically avoiding any pro-Wall Street or big business rhetoric, given that corporate America's approval ratings rival that of Congress-which stand at their lowest since 1974 at 13 percent.
Republican political strategists from K Street to Palm Beach were left flabbergasted last week when Super-PAC funded attack ads in New Hampshire directly took on Mitt Romney's record while he ran Bain Capital, the Boston-based venture capital firm he helped found in the 1980s, labeling him a "job destroyer" and "crony capitalist."
The attacks could have been mistakenly credited to left-leaning political groups like MoveOn.org or The Center for American Progress but, remarkably, came from the 'Grand Ole Party.' For a political party that has prided itself on free-market principles and de-regulated industrial practices since the rise of Reaganomics, it was certainly unprecedented.
Although the attacks were probably carried out as last-ditch attempts to slow down Romney's increasingly inevitable-looking rise to the nomination, they at least opened a dialogue on the campaign trail that maybe unitentionally shifted the spotlight to the country's single biggest problem: income inequality.
Dr. King would have chuckled at such a phenomenon. In a year that saw the opening of a monument in his honor facing Lincoln on the other end of the National Mall, his "dream" is back in the public eye.
Now it's up to Washington to live up to the promise of that "Shining City On a Hill" that was promised but never actually delivered.