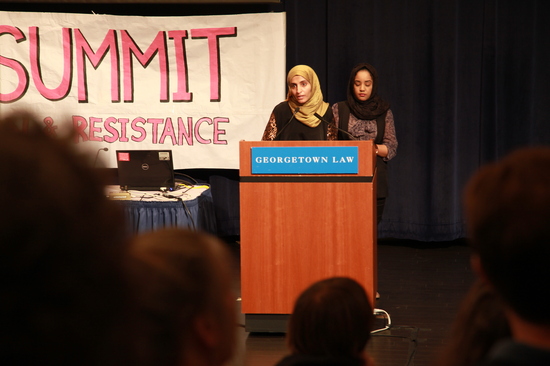 Entesar al Qadhi addresses the crowd at Code Pink's second annual global drone summit at Georgetown University's Law Center. Al Qadhi represents the Mareb Governorate in North Yemen, an area heavily targeted by US drone attacks in recent years. Photograph: Daniel Medina
Within view of the U.S. Capitol and just a little more than a mile from the White House, hundreds of of anti-drone proliferation activists, academics, lawyers and concerned citizens from all over the world gathered this weekend for the second annual drone summit.
The conference, co-sponsored by the peace and social justice movement Code Pink and the National Lawyers Guild amongst others, was held at a full capacity auditorium at the Georgetown University Law Center in northwest Washington. Attendees, clad in the organization's ubiquitous pink t-shirts and stickered attire, listened in on high-profile speakers and from panels of experts who confronted the thorniest issues related to the CIA's largely clandestine drone program, ranging from the legal challenges to drone strikes to the questions surrounding privacy with surveillance drones.
Dr. Cornel West, the Columbia University professor and social activist, gave the opening address, offering a damning critique of the Obama administration's drone policies.
"We are here today because we are not indifferent to the Obama administration's unlawful killing of innocent civilians abroad," said Dr. West to the roaring crowd before invoking a reference to Biblical scripture. " Indifference to evil is more evil than evil itself."
Officially titled "Drones Around The Globe: Proliferation and Resistance," the summit was not merely a gathering of like minded activists with little opportunity to change policy on Capitol Hill. Each session, workshop and panel was aimed at developing strategies to stop the proliferation of drones used for killing and spying and to lay out concrete steps on where to take the movement as it shifts to a larger national profile.
This has been a whirlwind year for the anti-drone proliferation movement, at home and abroad. President Obama's nomination of "drone-czar" John Brennan as CIA Director this past spring galvanized thousands to join the movement as critics saw the move as an effort "to begin the process of the normalization of killing with no accountability and far less transparency," said Dr. West.
Code-Pink co-founder Medea Benjamin's rise as the movement's public face has also given it a bona fide leader. Benjamin, who made national headlines for heckling President Obama repeatedly during his drone policy speech at the National Defense University in May, says the NSA leaks "moved the needle a great deal" towards informing the public of government overreach.
"Last year for our first summit, we were coming from a sense of there's only a small group of us that care about these issues. How are we going to start convincing more of the public that the drones aren't good? " said Benjamin. "Now, how are we going to take policies that have started to shift because there's less drone strikes, there's more care for civilian casualties, there's talk about taking the drones out of the hands of the CIA, how are we going to push those things to really happen? That's what we did this weekend in our organizing workshops."
Part of this strategy, Benjamin says, is to shine a light on places, like Yemen, where attacks are taking place but that remain largely unknown to most Americans. An invited speaker at the summit was Entesar al Qadhi, a prominent female Yemeni parliamentarian representing the Mareb Governorate in North Yemen, an area that has been battered by US drone strikes in recent years.
" I may never know why we are being targeted on a daily basis by drones, but I do know that they are not stopping terrorism in my country," said al Qadhi through a translator. "Because drones are just another form of terrorism."

Another country spotlighted was Pakistan; the country most attacked by US drone strikes, which have deteriorated relations between Washington and Islamabad. A Pakistani delegation, headed by Shafqat Mahmood-an MP from Imran Khan's opposition PTI party, was on hand to address the crowd. A surprise speaker who had not been listed on the official itinerary, Mahmood traveled to Washington last week for meetings with Senators Diane Feinstein (D-CA) and James E. Risch (R-ID) to lobby both members of the Senate Intelligence Committee to cease drone strikes in his country.
Once aides told Benjamin that he was in town, she immediately contacted Mahmood to speak at the summit, hoping he could offer what she described as "an insider view on the relationship at the highest levels of government between our two countries and drone attacks." Mahmood eagerly accepted.
"We forcefully put across how these drone strikes are having a negative impact in Pakistan, how they actually are increasing militancy," said Mahmood of the meetings. " In particular, the last drone strike, which killed Hakimullah Mehsud [Pakistani Taliban leader], for whom we have no sympathy, but it destroyed the possibility of any kind of peace talks that had been planned between the Taliban and the government. That effort has been completely sabotaged."
According to the Bureau of Investigative Journalism, an independent UK-based government watchdog that tracks US drone attacks, there have been 24 CIA drone strikes this year in Pakistan alone, which have reportedly killed between 103-195 people. The issue has been a lightning rod for Pakistani politics across party lines. Prime Minister Nawaz Sharif has, both privately and publicly, pushed President Obama to stop all drone attacks in Pakistan arguing that they are illegal under international law and violate the country's national sovereignty.
The PTI party has been the most outspoken on the attacks, even threatening to blockade the northern province of Khyber Paktunkwa, where it holds power, from NATO supplies moving to and from Afghanistan, in retaliation to the strike that killed Mehsud.
Many Pakistan analysts see Mahmood as a trusted confidante to PTI leader Imran Khan who has the ear of the ex-cricket legend turned politician. Such a high-profile get was not lost on Benjamin.
"Having him here today was really special. When you have one of the most influential Pakistani opposition politicians coming over to speak face-to-face with members of Congress who support the drone strikes, that's powerful," said Benjamin. "That wouldn't have been possible a few years ago. All of our work has forced changes in attitudes on drones and the tides of public opinion are shifting. This weekend shows that if we remain united as a movement, we can get there."