Professional. Bipartisan. Serious. Mature. Those are four words that you would not ordinarily associate with Washington politics, especially during a tough congressional re-election year when everyone is trying to save themselves from being fired. And you definitely would not utter those words when describing the relationship between President Barack Obama and the Republican-controlled House of Representatives -- a relationship that has proven to be as just as symbiotic as what Jay Carney and John McCain exhibited last week on CNN.
But guess what? As one American citizen among many who have either grown tired of the dysfunctional politics inside the Beltway or are simply unsure what to make of it, the Republican House and the Democratic president actually came together on an issue of such monumental importance that Obama himself thought it wise to speak to the American public in a prime-time nationally-televised address. The issue I'm talking about, of course, is the Islamic State of Iraq and the Levant (or whatever you want to call savages who execute hundreds of people in a span of only a few minutes) -- an organization so ruthless in its tactics and expansive in its ambition that al Qaeda's old-timer Ayman al-Zawahiri scurried away from anyone connected to the group. That's about as likely as getting America's defense hawks to agree with its multilateralists. Well, it turns out both are more likely than we thought.
As reported by HuffPo's own Michael McAuliff and Jennifer Bendery, the same chamber that has caused President Obama's hair to lose some its youthful luster overwhelmingly passed one of the White House's most important foreign policy priorities this year: the $500 million funding package that will be used to train and equip a moderate Syrian rebel faction that is currently being decimated from all directions. The vote was a hefty 273-156 for the measure (introduced by House Armed Services Committee Chairman Buck McKeon as an amendment to the CR).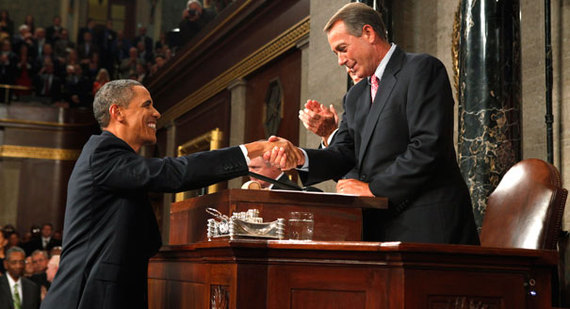 AP Photo
Yet what was far more impressive than the final vote tally was how bipartisan the vote actually was -- 159 Republicans joined 114 Democrats in the "yea" column. Speaker John Boehner, Majority Leader Kevin McCarthy, and Majority Whip Steve Scalise -- three men whose names would normally elicit eye-rolls and headaches in the Democratic caucus and in the administration -- actively lobbied skeptical House Republicans to vote for the White House program. Sure, there were a couple potshots that Speaker Boehner directed at President Obama and his anti-ISIL strategy along the way, like whether the policy would actually accomplish the goal that it sets out to achieve ("degrade and destroy ISIL"). But the Speaker still came to the conclusion that the Congress "ought to give the president what he's asking for." And, just to show that he wasn't simply preaching to his members, Boehner filed his own "yes" ballot. Such is an act of symbolism that represents just how strongly the Republican leader feels about the ISIL threat. Even the smartest political historian would be hard-pressed to find another instance when the entire House Republican leadership was in lockstep with the White House went it came time to vote.
Boehner, McCarthy, and Scalise weren't the only Republican bigwigs to show some political courage. The Republican chairs of the House Foreign Affairs, Armed Services, Intelligence, Ways and Means, and Appropriations committees in the end were all behind the training-and-eqiupping program that the White House has spent considerable time lobbying for over the past several weeks. Not to sound overly dramatic or suggest that this is the beginning of a change in the partisanship that Washington is known for, but the fact that senior members of the House Republican caucus decided to caste their lot with an Obama initiative is something that is quite groundbreaking in today's congressional politics.
If the House of Representatives wanted to send the message that Republicans and Democrats are behind the Commander-in-Chief on what will be a multi-year, comprehensive counterterrorism campaign against ISIL in both Syria and Iraq, it succeeded. For Americans, it must be nice to see Congress working quickly and effectively, and without any procedural delays, on the most timely matter of U.S. national security.
Testy congressional hearings with administration officials aside, it looks like the $500 million request for the moderate Syrian opposition is the only game in town for the majority of lawmakers. Now comes the hard part: sustaining that bipartisanship spirit as the counterterrorism strategy is executed. Judging from past wars in our nation's contemporary history, doing so will be a high bar to climb.