Determined to show the American people that he is eager to consult with Congress on some of the most consequential national security decisions that he will make, President Obama invited the four most senior lawmakers -- House Speaker John Boehner, Minority Leader Nancy Pelosi, Senate Majority Leader Harry Reid and Senate Minority Leader Mitch McConnell -- to the White House on Wednesday afternoon to discuss the chaotic situation currently unfolding in Iraq. Other than briefly saying that the president talked about efforts that have been made "to strengthen the capacity of Iraq's security forces," the short readout of the meeting doesn't tell us much about what options President Obama is considering in an attempt to help stabilize Iraq's security environment.
According to Gen. Martin Dempsey, the Chairman of the Joint Chiefs of Staff, the Iraqi Government has formally requested the use of U.S. air power to roll back the gains that have been made by ISIL militants over the past week. Up until this weekend, Obama administration officials were thought to be taking those requests very seriously.
Something, however, happened over the past 24 to 48 hours that has changed the president's mind. The Huffington Post's own Sam Stein filed this story late on June 18th that helps explain why Obama and his national security team may be reassessing their previous list of options:
"According to an aide with knowledge of the [White House] meeting, the president cautioned that targeted airstrikes would be difficult to quickly execute against the Islamic State in Iraq, or ISIS, and the Levant, or ISIL, the Sunni militant group that has terrorized much of western Iraq. To ensure that an attack would work, Obama told attendees, the U.S. needs stronger intelligence concerning the whereabouts of ISIL members.

Obama also had concerns that airstrikes would cause civilian causalities and may fail to change political problems in Iraq that are in large part undermining the country's stability."
Before any airstrike or military operation can be executed to full effect, the U.S. intelligence community must be able to collect the best possible intelligence that they can get their hands on, all the while producing the best possible products for the president to act upon. Targets have to be picked out, debated, and evaluated, and every facet of that process is even more challenging when the situation on the ground is so fluid. The ISIL advance in Iraq, and Baghdad's counterattack, is exactly the kind of contingency that requires a thought-out and deliberative inter-agency debate before operations are a go.
But blaming the intricacies of military operations as the main reason why the administration is re-evaluating the utility and wisdom of the airstrikes option would do no justice to what is an incredibly complicated and multidimensional issue. Something else is going on here, and it's quite obvious if you scan Obama's remarks: in contrast to 2010, when the Obama administration accepted a second term for Iraqi Prime Minister Nouri al-Maliki, the White House in 2014 no longer has any confidence whatsoever that Maliki is willing or capable enough to make good decisions.
White House Press Secretary Jay Carney may not make a mention of this to reporters during his daily briefings, but you only need to read between the lines to see that Prime Minister Maliki is no longer a White House favorite. As The Wall Street Journal reported on June 18, "The U.S. administration is indicating it wants Iraq's political parties to form a new government without Mr. Maliki as he tries to assemble a ruling coalition following elections this past April."
Unlike some vocal supporters in the Republican Party who are urging the White House to fuel up the drones, prepare the F-16's, and assemble the hellfire missiles, the president is looking at the bigger picture of why Iraq is failing its people. Obama understands that no amount of U.S. military power on behalf of Prime Minister Maliki's government -- even if aimed at ISIL targets -- will do anything to solve the fractious and sectarian-laced jockeying that has come to define Iraqi politics since the U.S. invasion of 2003. Otherwise, Obama wouldn't have stated in clear and unequivocal terms last Friday in front of Marine One that a more inclusive and representative Iraqi governing coalition is a step that needs to be taken before any U.S. air operation is contemplated.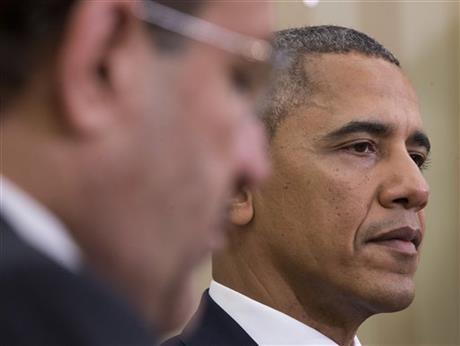 AP Photo/Pablo Martinez Monsivais
To be completely fair, Nouri al-Maliki has had a rough life. A Shia from the Dawa party, he was expelled from Iraq during the reign of Saddam Hussein and forced to live in exile in Syria and Iran, where like many Iraqis, he devoted his entire professional life to overthrowing the Baa'thist regime. He was unable to step foot into his native Iraq for over two decades, and he many of his associates and friends in Dawa were either killed or imprisoned by Saddam's security services.
It's hard not to feel some compassion towards Maliki when you look at his personal history. Yet any compassion felt is quickly displaced by the kinds of behavior that Maliki has used and grown to rely upon over his two terms as prime minister (with a third coming his way).
If simply overthrowing Saddam's Baa'thist regime and replacing it with a democratic system was Maliki's overarching passion, then this would be a noble aim that the United States and free people around the world could easily support. The only problem with Maliki is that this is not his vision for Iraq, nor does his objective appear to stop with the destruction of the Baa'th Party. Instead, it looks like all Sunnis in Iraq, from Maliki's vantage point, are complicit in the conspiracy: a large minority of Iraqis who are either dastardly, unapologetic supporters of Saddam or a bunch of Al-Qaeda nihilists who are seeking to destroy the Iraqi state and subject its Shia population to a life of pain and persecution. To think that Maliki, after eight years of successfully consolidating power in his office and excluding a Sunni community that he views as an enemy, will change his tune over the next several days is laughable.
If reports streaming in the press provide any sort of clue, it looks like President Obama, his administration, and a growing number of Republicans and Democrats on Capitol Hill are all coming to this realization. When combining Maliki's spotty record as a leader and his dismal rating since the 2011 U.S. withdrawal, you can see why the president may have concluded that sending in the jets and drones is a less desirable that it once was.