Co-authored by Amanda Bohan
It all started with one simple post. Last August, New York Times bestselling author Emily Giffin offered to give away two copies of her new book, Where We Belong, on Facebook to people who could not afford the $15 cost. "I've been there!" she said, recalling her "$5 ATM withdrawals during law school." So she asked fans to share their stories so she could decide who deserved to get a copy.
But before Giffin could pick the winners, a Facebook fan messaged her saying that she would also like to buy a book for someone. "Blown away by the message," Emily shared it with her Facebook community and nearly thirty more fans instantly emailed her, offering to buy books for someone who couldn't afford a copy.
Fast-forward just a few short hours and the Pay It Forward (PIF) program was born. "Sad to have dollars come between you and a good read!" said Emily.
And the story didn't stop there. After only ten days, nearly 250 women had already offered to send books, leading Giffin to create a separate group on Facebook to continue the goodwill. The group reached close to 500 members in only its first three days being live, as women continued to share their stories.
One stay-at-home mom wrote to the group about her experience as a mother to two autistic boys. "The only 'me time' that I get is the few minutes of reading while waiting for them to fall asleep at night," she said. "There is an incredibly long wait list at my library so I would be grateful for the opportunity to escape a bit with "Where We Belong!"" In less than one hour, another mom, also with an autistic child, reached out offering to send her a copy right away.
"My 9 year old son is autistic too. I totally understand how great it is to put everything out of your mind for a while and just escape!! I would love to send you a copy!"
If you visit the group, you can still scroll through and see posts from women of all walks of life--struggling single moms, students short on cash, women working hard to make ends meet, and more.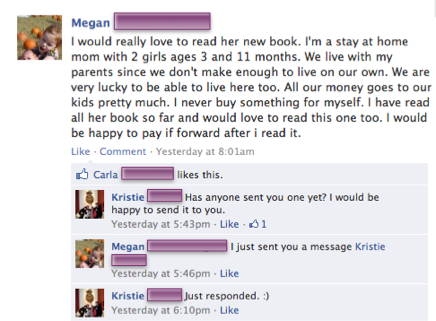 Ironically, the women who couldn't afford the books are now also able to "pay it forward" as most are promising to send the copy to another deserving person when they are finished.
And this has even inspired another author to follow suit-- novelist Kristin Harmel, author of The Sweetness of Forgetting.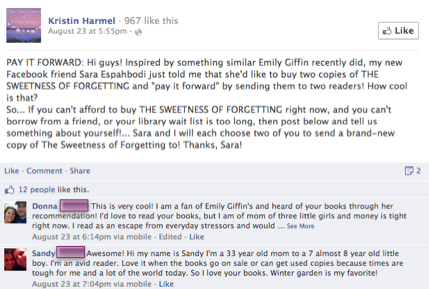 With the economy still in the doldrums for many, Giffin's efforts are much needed. And as we are constantly bombarded with negativity in the news--school shootings, the "fiscal cliff," Hurricane Sandy--it's refreshing to hear news that reminds us to believe in the good of humanity.
So pay it forward by sharing this story and let it be an inspiration for all of us.
Amanda Bohan is head of Amanda Bohan Marketing, a social media and digital strategy company catered toward arts & entertainment clients and start-ups. Previously, Amanda was part of the social media leadership team at MEC, one of the world's largest media agencies, where she created effective social strategy for top brands. Follow her on Twitter at @amandabohan.