So the third wave of snow everyone was predicting didn't happen, the temperature has hovered for several days above freezing and, as you would expect, the capital is a total mess.
In many ways it is harder to get around a thawing D.C. than it was on the first day of Snowmageddon. Back then I had skis and the roads were empty.
Now picture this: You have tens of thousands federal employees and others returning to work and school. The already-rated worst-traffic-in-nation streets are only partially plowed. Major thoroughfares, such as Massachusetts Ave., are reduced to one-lane in each direction because the snowplow mounds on either side are as high as an elephant's eye. To cross a street is even more nightmarish. Pathways have been dug through the mounds at irregular junctures but most pedestrians are reduced to struggling over the tops like wanna-be climbers attempting the peak of Everest -- without the benefit of cables or mountaineering equipment.
What snow hasn't been mounded has frozen into invisible slicks on sidewalks and driveways. Carrying a bag of groceries from the car to my front door is like crossing a terrain park (why they call those bags of sprinkles "ice melt" I'm not sure. They look decorative, but they sure don't melt ice). And then there is the added thrill of surviving what my children call the "deathsicles" hanging from our gutters.
For a few days they hung right above both front and side entrances to our house: Imagine clusters of frozen stalactites, some six feet in length and two feet in width, threatening to impale the unlucky person who happens to be opening the door under them when they decide to fall. I tried throwing snowballs at them, to no avail. Finally we found an old hoe in the basement and managed to attack the most threatening of them from a second floor window. Even that task proved perilous: My husband and I took turns sitting on the sill, whacking away at the monsters and then ducking inside quickly as the shattered pieces fell. One painfully clipped my knuckle. It was about two inches wide and thick -- fortunately, the flat side of it hit or I would have had to join the emergency room queues for stitches.
Deathsicles: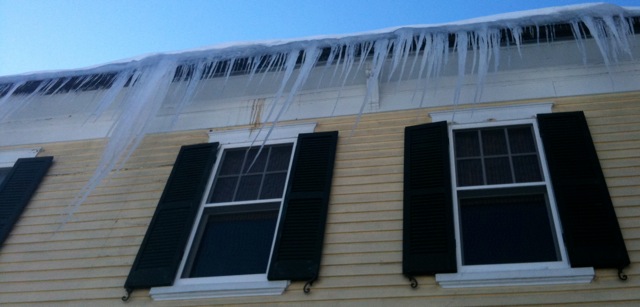 Thus the mean streets have gotten meaner (commenters who expressed disbelief at my previous descriptions of Washington incivility should read this unbelievable-yet-entirely-believable story of what happens when you try to help someone out in D.C.)
And I've just become aware of rising tension between apartment-dwellers and home owners. Those who live in buildings have for the most part been blissfully spared of shoveling; those of us who live in houses have done nothing but. The latter class, to which I belong, has shoveled walkways, driveways, sidewalks, even parking spaces on the road -- and not just once, but several times over the past ten days. That we may have done an imperfect job -- including an imperfect job of our municipal stretches of sidewalks -- is not surprising, and should evoke some sort of sympathy from the superintendent-cared-for class.
But as observed, sympathy in D.C. is as rare as historical blizzards. And apartment dwellers are now calling district hotlines to bust those who have not yet shoveled their sidewalks.
Full disclosure: I am guilty of an unshoveled sidewalk. Perhaps Apartment Dweller, you have even cursed at me.
Of course, I had every intention of shoveling the sidewalk. But by the time Snowmageddon II hit, I'd given up all hope of clearing it. Most of the shoveling progress achieved under Snowmageddon I was promptly reversed by the second storm. And by that point, my husband had gone away on a business trip (lucky duck). After several hours of shoveling, my teenage son and I managed to dig out the driveway and critical pathways to and from the house -- but the 50 feet of sidewalk, we mutually decided in exhaustion, would have to wait until "later." No one was on the streets anyway.
Then the thaw set in and made the snow heavier, icier and simply immovable without a plow or snowblower. Worse, our impassable tract now stood (and stands) in sad contrast to our neighbor's neatly plowed strip. He'd had the foresight to drive to a remote Home Depot the day before Snowmaggeddon I and buy -- as he told me proudly one day across our mountainous median -- "the very last snowblower in all of D.C."
And here I'd been high-fiving myself for grabbing possibly the last set of cross-country skis in the city! But that just proves my twisted set of priorities. Numerous large and obvious hints to "rent" his snowblower for whatever amount of wine he requested were dropped -- and not picked up.
Much like my snow. (Can I donate it to the Olympics? Is there a number we can text to donate our surplus snow to Whistler? Maybe we could organize a school drive....?)
"How about that strapping boy of yours?" my neighbor said cheerfully in parting.
That strapping boy and I were spent.
"Guess what I'm getting my husband for his birthday?" a friend of mine asked me yesterday. Before I could answer, she said, "A snowblower!"
"You know what that means..."
"Yes," she said. "It means once I buy it I won't ever need it."
"Exactly."
"I'm happy to keep it around as a talisman."
That's a good idea. Maybe I'll purchase mine in the summer -- around the same time the hardware stores might actually be restocked. Who knows? They might even be on sale.
You can read Danielle's previous Snow Diaries here.