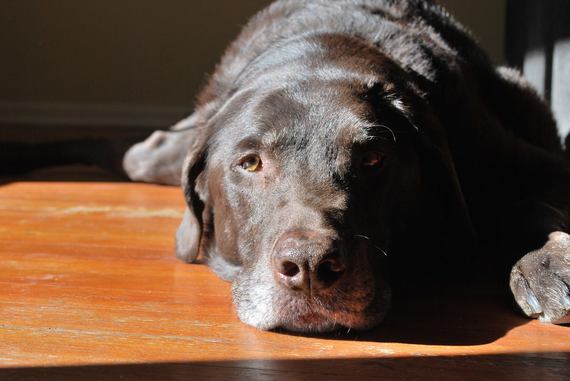 His breath smells like a Coachella porta potty softened by the tinge of chewed grass and spiders. His belly is so riddled with lipomas that the majority of my friends stick to touching his head, subconsciously stricken with the fear of popping a tumor and inadvertently bathing in puss.
 
Though he's been known across the land by many different aliases, originally referred to as Molson, then Mo, Moley, Mosies, Momomomito, Molskerdo, Mo-to-the E-to-the, he became my Momo in 2010.  It was the year I found myself on my bathroom floor, drowning in depression, looking at a bottle of nail polish remover and wondering how many I could drink before I would regret it -- a horrific thought so foreign to me that my reflex to its darkness was laughter.
 
Throughout the entirety of his eight years of life, he had never set a paw on a piece of furniture. Obeying his person's every command, like a loyal chocolate lab, he remained at my feet, constantly eyeing me for praise as he pressed his boxy head into my shin.  He was the epitome of a "good boy."  That is, until the night I splintered, cracking into a person that terrified me.  A person I had never been before.  A person I couldn't recognize.  Luckily, he did.  
That night, he jumped on the bed.  He laid with me despite every "NO!" he had ever heard, and only after I fell asleep did he hop back down to his reality.  This continued for months.  Night after night he would leap onto my covers and wait until my last tear was shed, until I was fast asleep before he, himself, got comfortable.
 
This year he's turning 13.  And now my husband and I lift him onto the bed together.
 
I didn't want to wait until after he had left us before sharing his story of unconditional love and support, a story about an animal becoming a hero, a story that so many have heard before, and have experienced for themselves, but this time the story is different... This time his name is Momo. This time he's mine.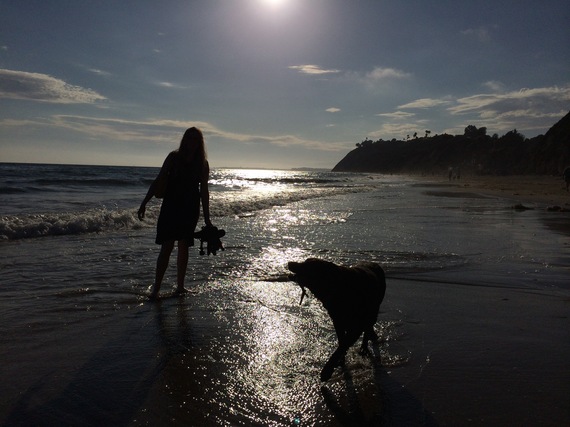 ___________________
If you -- or someone you know -- need help, please call 1-800-273-8255 for the National Suicide Prevention Lifeline. If you are outside of the U.S., please visit the International Association for Suicide Prevention for a database of international resources.