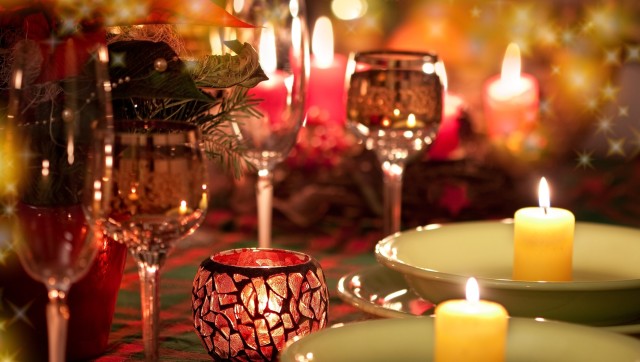 We often spend much of our adulthood building the selves that we envision, piecing together what it is we believe ourselves to be and finding a way to present who we are to the world. I think the dinner party lives in that spirit -- a presenting of ourselves.
Before Facebook walls and Twitter bios we presented ourselves and how we lived to those we valued by inviting them into our homes, feeding them and talking loudly after bottles of wine were emptied.
So now, as I have settled into the idea of being an adult, it makes sense that my first order of business once I left my parent's home was the "dinner party." My presentation.
My first "dinner party" was at Florida State University in Kellum Hall, a dormitory with nothing "luxury" in sight, but filled with what can only be described as un-abandoned youth and spirit. My roommate and I carried pots of food from the community kitchen on the fifth floor down to our 120-square-foot room on the third. Dinner was sprawled across a linoleum floor on far less than "fine" china from Target and consisted of instant macaroni and cheese, chicken, and what once was frozen broccoli. We arranged the food neatly, with folded paper napkins and cutlery placed at the sides. We imitated adults as best we could. We invited our friends into our home, as merger and poorly lit as it was. They ate and laughed there on the floor and without judgment.
As the years have passed the dinner parties I host have become more lavish with more complicated menus, cloth napkins, desserts, table tops in Manhattan, and wine bottles that pop rather than unscrew. But the presentation, at its core has remained the same: relaxed and personal.
What I hope my dinner parties say about me today, what I hope to present, is that I love good food, cheap wine, and adore my friends, and that all these things are always welcome into my most sacred space, my home. These are the same things that could be said of that first dinner party, on the floor, in Kellum Hall.
Over this last week we, at HuffPost Home, have dedicated our Tumblr to the dinner party and now we want you to join in honoring this timeless tradition. Using Instagram, Twitter, or Tumblr share pictures of your dinner party or of one you have attended with the hashtag, #HPHDinnerParty.
We'll highlight all of your pictures right here as part of our tribute to the the dinner party in the slideshow below.
PHOTO GALLERY
An Ode To The Dinner Party: Your Dinner Parties
What does the dinner party mean to you? What makes a good dinner party? How do you love to present yourself and your home? Share in the comments below. We would love to hear from you!
Have something to say? Check out HuffPost Home on Twitter, Facebook, Pinterest, Tumblr and Instagram.
**
Do you have a home story idea or tip? Email us at homesubmissions@huffingtonpost.com. (PR pitches sent to this address will be ignored.)