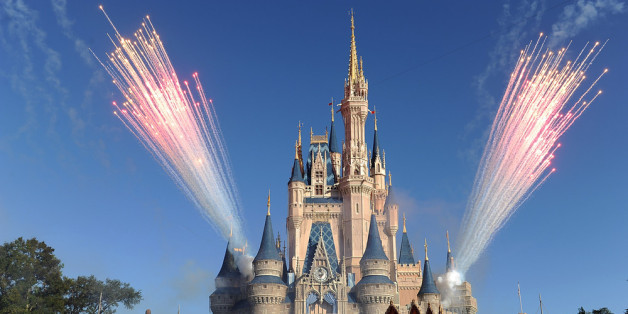 The giddy little girl that loved pretend play and watching princesses on VHS tapes reappeared the first time I stood in front of Cinderella's castle at the Magic Kingdom in Disney World. Prior to leaving for the trip, visiting Disney with the family didn't appear so "cool." As a 13-year-old, I was over the fairy tales. But the second I saw the huge castle, everything changed.
As I stood in front of something much bigger than myself, a castle I'd considered make-believe, my attitude shifted. Proof that fairy tales didn't just live on-screen or in books encircled me. I stood in a world full of magical and wonderful things.
Hope and happiness reignited belief that my dreams could come true. I ended up having a great vacation.
It's been several... okay maybe more than several... years since I stood in front of Cinderella's castle as a teen. And, as life would have it, some of the magic of that moment wore off over the years. High school happened. Bills came. People died. Couples divorced. And probably most defining for me, cancer came.
There's nothing like a life-threatening disease to knock you back to reality and snatch up all of the magical pixie dust it can find.
Over the years, I've struggled to retain the wonder of childhood. Colonoscopies, chemotherapy, radiation and surgeries overshadow anything magical about this world. Saying goodbye to dying friends and hearing about others' diagnosed tends to put dreams on hold.
That is until something sparks the wonder and hope once again -- like the something that happened last week.
I work at the nonprofit Fight Colorectal Cancer and for months we've been planning an awareness event in New York City called One Million Strong to kick off March as Colorectal Cancer Awareness Month. We recently began recruiting attendees and asking for sign-ups of those wanting to volunteer or attend.
A 20-something nursing school student, Megan, saw our plans for One Million Strong and took it to the next level. She viewed the event as a perfect way to remember her mom who passed away in Feb. 2013. She didn't let a college-student budget stop her from the dream of attending and set up a personal fundraising page on GoFundMe where friends, family and complete strangers have contributed to her plea for financial assistance to join us. In just a few weeks, she's raised over half of her goal and it's looking like I'll be meeting her face-to-face in March if the generosity continues.
It's moments when I see Megan, a daughter who's determined to do whatever it takes to come to NYC to remember her mom, that the wonder of my adolescence reappears. She's made all of us at Fight Colorectal Cancer feel like we're doing something that is much bigger than ourselves as we ramp up cancer awareness this March. And as a cancer survivor myself, she's reminded me that despite the pain that cancer can bring, there's still a place for hopes and dreams. If I let myself marvel in the magic and happiness of life -- maybe some of that pixie dust will keep floating in.