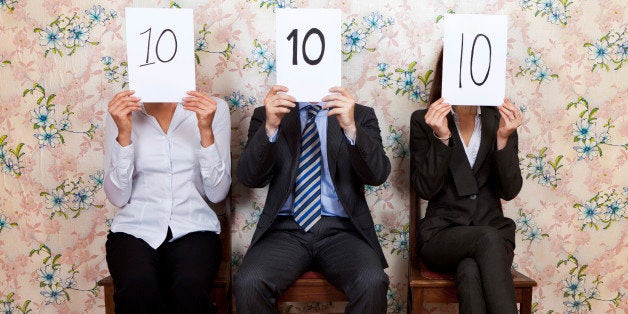 When looking for the right vendors, there are countless ones available online. Each website you come across will showcase the vendor, their portfolios, contact information and of course, reviews. But are these reviews really worth their weight in gold and how strongly should you consider them before making a decision? Not as much as you would think!
The first problem with these reviews is that you have no idea who is writing them. Is the review from a former client? Is the review from someone related to the vendor? Did the vendor write the review themselves?
When you're reading a review, you don't know if you are reading something authentic. The review could very well be another vendor trying to tear down their competition. And that's because there are no rules for most sites! People can enter any email address (fake or not), any name and any wedding date, and just like that, their review is posted. Let's be honest: A vendor could have 99 perfect reviews, but if you see that one review that is all negative, you're likely to move on to the next vendor.
But what if all 100 reviews are perfect? What if they all start out with "Best person ever. Hire them unless you want your wedding to be awful"? Too good to be true? Maybe.
Many vendors are able to pad their own reviews by getting their friends and family to write good things, and some vendors write their own as well. With the amount of awards that are handed out to those vendors with perfect reviews, there is pressure to write these reviews to get these accolades. Perfect reviews, Vendor of the Year Award = you being more likely to hire them. Right?
Another problem with these reviews is that there are three sides to every story: his, hers and the truth. Even if the review is legitimate, you have no idea where the content is coming from. For instance, say there is a negative review posted for a DJ that reads something along the lines of no one being on the dance floor all night. What you don't know is that the DJ tried to change the music multiple times to get people up, but the bride and groom refused to let him/her deviate from their set play list.
But can't vendors respond to these reviews? You bet they can!
How does that make them look though? No matter what they say, there will be potential clients that view their words as condescending, rude and then it's "bye bye vendor" and on to the next one. Most vendors choose not to respond to negative reviews because there's no way to win. If they say what really happened, then it can be a back and forth argument. If they apologize, then they are admitting to doing something wrong. This, like Vietnam, is a no win situation.
Are reviews worthless? Not at all.
The best way to handle reviews is to take them with a grain of salt. While you can't always consider the source since most reviews are anonymous, just take the good with the bad (or the good with the better) and interview vendors on your own. The more detailed the review, the more likely they are to be true. Take those reviews with you when you meet with the vendor! Ask them to explain this in person -- that way you can see their face and hear their tone of voice, as opposed to guess their emotions behind a keyboard and computer screen.
As a planner, there are vendors that I will always recommend hands-down over others, and they don't have any wedding vendor awards nor do they have a perfect 10 on every website. However, I know the quality of their work and I can vouch for them, personally and professionally. There are also vendors that I would never work with that have pages of nothing but "perfect" reviews.
Bottom line: It's tough to know what's real and what's fake because everything is all smoke and mirrors online. Trust your gut and take your time to meet with vendors, instead of letting some website make the decision for you!