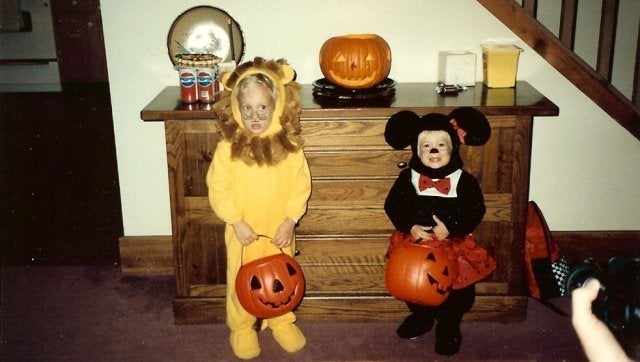 Before you drop any money on a Big Bird costume this Halloween, know this:
If you dress as the iconic Sesame Street character, you won't be unique.
Since Big Bird burst onto the scene -- after Mitt Romney said he'd cut "non-essential" budget items like PBS -- people have been snatching bird costumes off the shelves at a record pace. And we're not talking about the bright yellow, fully-feathered version.
Yes, a Big Bird costume is funny and topical. But there's nothing worse than striding into a Halloween bash only to find four other people wearing the exact same thing.
So forget about Big Bird. Here are five other costumes that will get you the respect you deserve.
Yes, Lance Armstrong is apparently the biggest cheater of all time. A recent 1,000-page report made that abundantly clear. Still, his Livestrong foundation continues to raise millions for cancer research (even though Armstrong has stepped down as chairman).
Dress as the popular yellow wristband, and it says two things:
- You don't support Armstrong
- You do support Livestrong and its mission
2. For Guys: A Binder of Women
Romney's creepy-weird statement during the second presidential debate -- that he used "binders full of women" to help with job searches -- may be the most memorable soundbite of the entire election.
All it takes to become the binder: a cardboard box folded with a little creativity. Then, of course, you need to fill the costume with photos of women.
Pictures of boyhood crushes like Kelly Kapowski? Hilarious.
Pictures taken from Facebook of girls you expect to see at the party? As creepy as it gets.

3. For Girls: Life-Size Pinterest Board of Costume Ideas
Why pick one costume when you can wear 20 at the same time? Throw your favorite ideas on poster board and model off the most creative costumes from the Web.
Best part: you don't have to buy any of them!

4. President Lincoln
Want to prove you're really "up" on things this Halloween? Go as Honest Abe.
Not only is 2012 the 150th anniversary of the Civil War, but we're also a few weeks away from the release of Lincoln starring Daniel Day-Lewis as the president.
Spielberg directed the movie. It will be epic.
So put on a fake beard and stovepipe hat. Come November, everyone will be talking about Lincoln. And you can say you knew about it first.
The ultra-tight presidential election will likely come down to a handful of pivotal swing states -- ones that could vote for either Romney or Obama.
Don't simply read about places like Ohio, Florida and Virginia -- become one!
Wear a patriotic shirt and any style necktie. Then tape a cut-out of a swing state to the tie and let it sway back and forth all night.
Still can't decide what to wear? Try multiple costumes. Halloween is on a Wednesday so you know there will be weekend parties too.
Just make sure to leave Big Bird out of the mix. You've been warned.
Any other costumes that will dazzle the crowd? Or are you trying to keep all the good ideas to yourself...