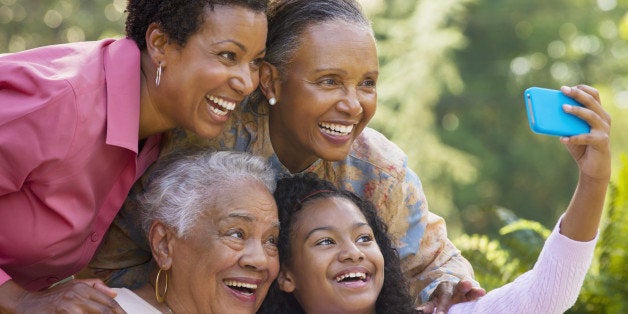 Often times I see mothers wracking themselves, wracking their minds and beating themselves up because they want to be the best, or feeling like they have to have all the answers when they don't. Somewhere along the line we got the idea that we had to be these heroines that had to do it all on our own. A mother can often begin to feel like a bit of a failure if she doesn't have all of the answers. The heroism is really in continuing the journey.
In these more modern times, it's as though we've lost that sense of community where we really allow others to help us with the rearing of our children. We have forgotten or are neglecting to include this as one of our assets as a mother. But it's important to keep in mind that you not only have your own wealth of experience, you also have as a resource your trusted community.
In terms of mothering, there are a number ofᅡᅠmother figures that could (and actually do) contribute to the social role of raising a child. The most obvious would be grandmothers, great grandmothers, godmothers and, say, stepmothers -- since these titles include the word "mother." But quite beyond this, there are many other mother figures that come in the form of aunties, older sisters, younger sisters and even cousins -- and that's just if we stay within the familial sphere.ᅡᅠButᅡᅠthere's the old saying "It takes a village to raise a child," which gives us a pretty heavy hint into the ways of our predecessors, and into what I'm getting at here. And in Swahili, there's the proverbᅡᅠ"Asiyefunzwa na mamae hufunzwa na ulimwengu" (Regardless of a child's biological parent, its upbringing belongs to the community), which approximates the same concept. If we took this viewpoint in mothering, extending out into our community and beyond our home and family, we could then at the very least include the babysitters and nannies of the world as well.
The fact is that there are a lot of women who can and do assist in taking care of your childrenᅡᅠ-- and all of these women constitute the nucleus of your children's support system.ᅡᅠI often refer to the larger portion of my family as my "tribe," and lovingly call this group of women "The Other Mothers."
Sometimes I see a bit of a competition going on between women in terms of who is doing it best, rather than seeing it as a collective effort and responsibility to the "tribe" -- with all of us working together to help contribute to a wonderful maternal experience.
I have kids all the time come to me and say, "You're like my mom." And there are things they say to me and do with me that they don't do with their own mothers. This is particularly common with adolescents. Maybe because it's at a time when these young girls are establishing their independence (which is an important part of growing up), yet still want the safety of "the nest" without it being so close to the umbilical cord -- a little further away but still within arm's reach of a mother they trust. Maybe the idea of a child having many mothers was even part of the grand scheme of things and has its own specific benefits.
On the other side of this, I personally have a number of, shall we say, Bonus Children, who refer to me as their Bonus Mom. The sisterhood that I have established with the mothers of my Bonus Children constitutes a vital contribution to the quality and care that my children receive. And when I look at the all of the Bonus Moms my own children have, I see that I have even more Other Mothers who help me along, all of whom can be viewed as my virtual village, or my mothering community.
Now, I'm not saying that we've completely lost this communal idea. But I do feel it's become more clouded or diluted in recent times. I believe that looking periodically to the past, to remind us of where we've come from and what has worked, can be helpful. The village viewpoint in terms of raising children has worked, and worked well. So, what I'm really attempting to do here is to encourage you to take a look at this philosophy more closely, to look around at your own community and view it as such. To take on the time-honored tribal or communal tradition and see how it could be of some help to you, and how you could as well be of help to your community and its children.
You have a community. And within it you have a virtual bevy of wonderful, loving, amazing Other Mothers. Embrace them!