Smart, talented, soulful women have always been my downfall, so it's no surprise that while chatting on the phone with Stormy Leather, "the naked girl of burlesque," I fell just a little bit in love. And then I saw her perform, so toss in a good dose of sexy -- killer moves, gorgeous eyes and a smoking hot body -- and I was a goner.
Unless you've seen a show or two, it's easy to dismiss burlesque as merely stripping, but it's so much more. At its best, it's art -- and Stormy Leather is a true artist. Her repertoire covers a lot of territory, ranging from the glamorous '50s-style burlesque -- made famous by Gypsy Rose Lee, complete with fan dancing and tassel twirling -- to compelling and sexy neo-burlesque acts during which she may decide to include Japanese rope bondage, fetishism, drag or something else totally unexpected.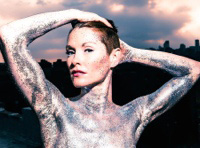 Stormy consistently pushes through and redefines the boundaries of burlesque, creating acts that unquestionably get a response from the audience -- even unexpected ones. So much so that a few weeks ago after her opening number at the Wassabasco Hellfire Club, involving lots of nudity and a bit of girl-on girl-discipline, one very twisted dude dragged his rather forlorn girlfriend out the door, while I settled deeper into my chair wanting more.
"More" involved a Cylon straight out of the TV series Battlestar Galactica, because -- you guessed it -- Stormy is a huge fan of the new version of the series. It opened her up to the world of sci-fi, showing her that it could be sexy and badass rather than "too campy." And it doesn't hurt that the show is loaded with strong female characters. The Cylon outfit is more of an experience than a costume because Joe Inzerillo, the man behind its engineering, actually worked with Stormy to build a fully loaded robot.
Taking three years to perfect, and currently in its 2.0 incarnation, Stormy says that while it's well worth it and is lots of fun to perform, "It was one of the hardest things I've ever done." Not that you'd know that when the lights dim, the music kicks in and the curtain rises, because there she is, "the lone Cylon," complete with a single roving red eye and green lasers shooting out of her fingers, as well as other must-see extras. All of which are slowly revealed throughout her performance, which is nothing short of breathtaking as she provocatively strips away the metal facade, ultimately reclaiming her humanity -- or, more aptly, her femininity.
Since I was immersing myself in the world of burlesque, the next night I headed out to Hotel Chantelle, where Calamity Chang hosts a weekly burlesque show featuring a killer lineup of performers. That evening I watched Stormy Leather watch the show before she went on to weave some magic of her own, clad in a leather corset and denim cowboy gear. Commanding the stage with her innate sensuality and charisma, she had the audience in the palm of her hand; ending the act by chugging a beer and wearing a series of beautiful Japanese bondage knots laced across her skin.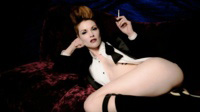 Yet those stolen moments I spent watching her watch the show were even more beautiful than her performance, because she glowed -- her love of burlesque and its performers -- alive on her face, in her eyes and in her smile.
That love took her to the Golden Pasty Awards, burlesque's version of the Oscars, this fall. Stormy, who likes to play with and blur gender lines, was dressed in "half drag." Wearing a tux along with some glamorous shoes and makeup, turning the heads of men and women alike. She took home the "Most Likely to Start a Barroom Brawl" award. So I had to ask: Is it true? Should I expect a brawl or two? While clearly reveling in her badass rep, she finally admits, "I'm more of a lover than a fighter." But lovers can be a bit badass, too -- right?
At the awards show, she was surrounded by her friends, the women of burlesque, who are clearly part of this ongoing love story, having consistently inspired and supported her with their strength, love and sex-positive message since her arrival in New York. In fact, she lets me know that being in such a "femo" group of women, who "aren't afraid or ashamed of who they are -- or their bodies," has had a profound impact on her. "They've changed how I feel about being a woman," she says.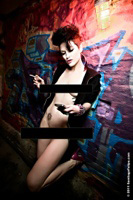 Stormy was born in "the-middle-of-nowhere" Oklahoma, to a Southern Baptist church-going family. Eventually she traded religion in for atheism. Yet all those years in the church nonetheless had a positive, long-lasting affect on her. "Seeing so much judgment taught me about love and tolerance," she says.
Stripping came into the picture right after leaving home at 17, allowing her to pay for school and make a living. Over time it was a bit jading, so she started slinging drinks and go-go dancing. When a friend suggested that she give burlesque a try, she did, performing for the first time on a side stage at OZ Fest, a tribute to Ozzy Osbourne. On that stage she discovered "what stripping could be" -- and she was hooked. So it was only natural for her to search out burlesque venues shortly after arriving in New York City, quickly landing a gig at Kitty Nights, a burlesque show led by Fem Appeal.
In those early days watching women, like Gal Friday and Peekaboo Pointe, perform showed her what "stripping should be." When you see Stormy on stage, it's clear she took their lead and made burlesque her own. In so many ways she transforms the stage into her own personal playground -- a world where she can play and explore, finding inspiration in life, music and even favorite TV shows, and often in the sexuality and sensuality of others. While watching a set you might wonder whether the games she engages in onstage make their way into her bedroom. (While some do, she says, most don't.)
Stormy Leather uses her soul, her intellect, her passion and, yes, her skin, to create art -- a seductive, thought-provoking and compelling piece of art at that. So that's the good news.The bad news is that just before New Years she headed off to Vegas, where she will be performing at The Act, a new night club in the Palazzo, for a few months.
Frankly, I almost wish I were in Vegas, so if you are, or you're going, make sure you check her out. If not, put seeing her on your springtime to do list.
Special thanks to Alex Colby and Santiago Felipe for the amazing photos.