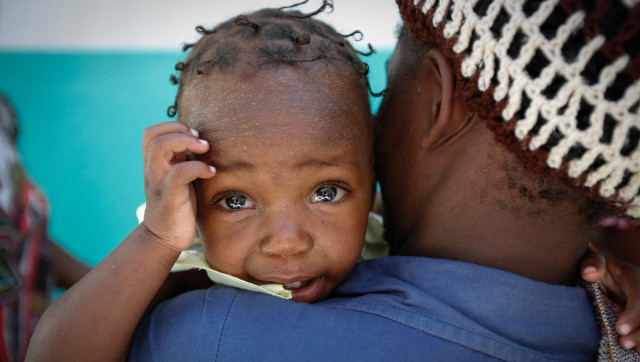 While Mitt Romney's "binders full of women" trended like crazy last week, Abayudaya Necklaces saw some twitter action too, because the Vampire Diaries' Nina Dobrev, and Dexter's Jennifer Carpenter both tweeted about these gorgeous beaded necklaces. You're probably wondering why I'm even bringing this up. Its just necklaces right, nothing special?
The answer is simple: Abayudaya Necklaces, aren't just some cool African themed jewelry designed by someone famous being churned out in mass by some factory in China by the thousands, they are actually handmade out of recycled magazines by women in the Abayudaya Jewish community in Uganda using a sustainable business model to support themselves and their families.
In reality these necklaces are all about women's economic empowerment. But that's not all some of the money these $20 necklaces generate is also funneled back into the local community helping to buy mosquito nets to prevent malaria, as well as supporting the health center, generating clean water, and providing HIV/AIDS prevention. All of which makes their day to day lives better, healthier and safer. By the way did I mention that the necklaces are gorgeous, with each bead being hand cut, rolled and varnished and then strung on a cord? All I have to say is that some of the people on my holiday list this year will be getting one or two in their stockings.
While this endeavor is relatively new and by some standards small it's the same model that larger organizations like the Women's Microfinance Initiative are using to help women throughout Uganda and Kenya by providing them with access to micro loans. These small loans allow women to start or expand their small businesses, which can be anything from jumpstarting a farming operation, opening a beauty salon or a small shop to my personal favorite, since I have a bad java addiction -- growing coffee. The women become experienced borrowers, paying back the money, all of which helps them get enough experience to participate in their local banking structure.
The Women's Microfinance Initiative, which started making small loans in 2008, and is run entirely by local village women in Uganda and Kenya, has issued more than 2,500 loans to women in more than 150 villages with a 100 percent repayment rate -- pretty amazing stuff. This is especially true if you take into account that while in the West we're pretty well educated, even with the existing disparities, just about one-quarter of girls in developing countries don't get to go to school, and when you do the math that works out to just about 100 million girls -- we still have a long way to go when it comes to gender equality.
While the tweeting about Abayudaya Necklaces made me think about women and micro finance, which is one of the things I love about twitter, it's something that's been on and off my mind since I met Siamanda Chege, early in the summer. Siamanda is gorgeous, and since she's a former model, that's not all that surprising. However, that's not really what sticks when you meet her -- it's her passion for The Patrick Chege Memorial Orphanage, which she built in Nakuru, Kenya in 2002, an area that's been hard hit by the AIDS epidemic, leaving many children parent-less and homeless.
Right now the orphanage provides twenty girls and boys, of all ages, with a loving and safe home, as well as schooling from the time they arrive, all the way through secondary school. What do they want to be when they grow up? Everything from pilots, architects, and musicians to video editors and bankers -- and now they have a very good chance of making those dreams come true.
Siamanda is also the CEO of Bebe Ravi, her children's clothing company, selling really beautiful knit and crocheted baby gear no doubt partially inspired by her own children. A portion of the company's proceeds go directly to the orphanage, but there's also a sustainable finance component integrated into the company's corporate model. All the clothing in the Bebe Ravi line is handmade by women living in Nakuru. This model allows the women to support their families, in an area that's also been hard hit by unemployment.
Since I am going to shop anyway, I love the fact that when buying "stuff" I need or want I can actually help women and their families, as well as their communities, have a better life, whether that's buying locally at the Race Farms green market on Carmine Street and 6th avenue, or ordering baby clothes that support women and orphaned kids in Kenya, purchasing a necklace that boosts the local economy in Uganda, or drinking delicious African coffee.
Trends come and go, but I can only hope that this micro finance trend continues to gain traction, so that women can keep doing it for themselves.