Mothering a teen daughter, I recently made an invaluable connection I believe will not only make life with teens more bearable, but just may help countless parents pioneering this new family terrain.
What's this connection, you say? Unbelievably, it's my cat, Luna.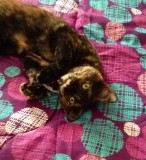 Let me explain: The first two years we had her, our rescued streetwalker feared the outdoors and shook uncontrollably at the mere thought of nearing the front door. Who knows what tragedies befell Luna in her former beggar life, but her terror was visible.
Year number three, she turned a corner and spent her entire day plotting ways to escape. She'd observe us carefully, patiently waiting for the inevitable security breach. When we finally did leave a door cracked open, she'd make a beeline for the yard.
Those days were stressful. We felt like prisoners in our own home, inadvertently slamming doors shut on each others' heels and catching fingers as we'd frantically usher one another through the door.
We'd manipulate certain variables and keep others controlled. Finally, we came up with a plan that led to us walking her on a leash several times a day. (I promise; it was the funniest and most absurd phenomenon you've ever seen!)
After several months of such nonsense, we surrendered. No longer could we fight nature. After all, we've all got to be whatever it is we are, right?

Today, with newfound awareness, we allow her to come and go. Her outings fall within a fixed range of time and under carefully-managed conditions. Having imposed limits, she's come to know our expectations. (No kidding!)
Moreover, in spite of our scratched furniture, we no longer trim her claws. She needs tools to defend herself in her new milieu. Likewise, we removed the loud bells that used to dangle from her collar.
And here's the correlation: We appreciate her when she chooses to spend time with us and give her all the love and security we can. However, when she's headed for the door, we understand there's no stopping her. We must let her go and hope for the best.
Granted, she's not the [fill in the blank] pet we'd always envisioned; frankly, we would've preferred one that never left our side -- one with no interest in a life of its own. But that's not what we have. That's not what she is.
And we accept that because she is only happiest being herself.

Consequently, this exercise of trying to exert control over an ex-stray, yet still wild-at-heart cat has given me incredible insight into the adolescent psyche -- and into human nature in general.
A summary of these insights are:
1. All living things can be nothing other than what they are. When we use coercion or try to control another's destiny, eventually, it'll backfire.

2. Love really is about letting go and having faith whoever it is will come back if truly yours.
3. We ought to use our best efforts to inculcate our kids with the values and tools needed to negotiate the real world. Yet, ultimately, we must have faith they'll know how to use them when the time is right.
4. It's our responsibility to provide our children with roots and wings. Without wings, they'll lack confidence, survival skills, direction and resilience. Without roots, they won't have a sense of identity, security or belonging.
5. Instead of fretting over groundless fears, we should respect others and their decisions, thereby supporting them in their endeavors.
6. Setting reasonable parameters and expectations provides real comfort and security.
7. Good communication that lends to an understanding of what everyone needs to be happy, results in collaboration and cooperation. A win-win is the best we can hope for.
8. Freedom is a universal value cherished by all living things. So let's give our teens, spouses and everyone else we know a little breathing room!