Good Design stands out but Great Design fits in.
In a more innocent era, design was just about making things that were aesthetically pleasing and did what they were supposed to; cars were sleek, fast, and gulped gas, electrical appliances looked stylish and wasted a lot of juice, art was strictly for art's sake. The bigger the splash, the 'greater' the design, and little attention was paid to the social and environmental impact caused by the things we made. Ignorance was bliss.
But time and Nature have taught us that it's not enough to simply create objects that are beautiful and work well. Designers now have to think about climate change, pollution, economic justice, war and peace. These are not only the greatest challenges of our time; they are also crucial considerations that inform the way we create the trappings of everyday life. Now, the things we make should-and must-fit into the context of the environmental and social realities of 2013 and beyond.
The yardstick by which we measure Great Design has changed dramatically.
And that's a good thing. I've collected five designs that not only function at a high level and please the senses but also address the pressing issues of the day in their own ways. Each one gets my vote for Great Design.
Style And Performance Without All The Carbon
Tesla Model S by Tesla Motors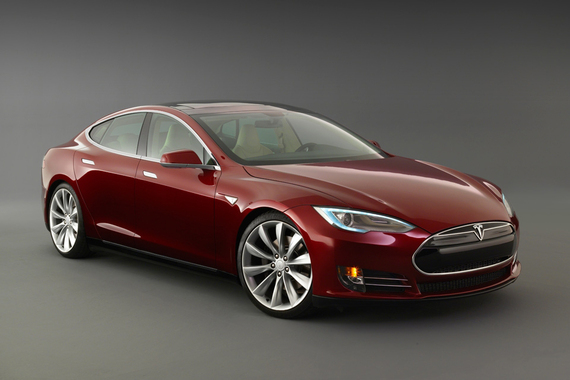 Okay, I know what you're thinking, how can driving a luxury sedan be environmentally responsible? Well, the Tesla Model S, a luxury car if there ever was one, is one of the greenest cars on Earth. Unlike even the most gas stingy hybrid, the Model S is completely exhaust-free. That's because it's powered exclusively by electricity.
The Model S meets the need for performance, too, accelerating from 0-60 in 4.2 seconds. Because there's nothing to tune up like in a gas engine, maintenance is low and can mostly be done remotely, saving even more money and precious resources.
And you don't have to trade range for a clear conscious, either. The Model S can go up to 300 miles on a single charge and bank up to 62 miles of travel for each hour of charging. But the real kicker is that Tesla provides owners with free recharging at their Supercharging stations, which are located on main corridors across the USA.
By the end of 2013, Tesla tells me, they'll have a system of Supercharging stations in place that will allow Model S owners to seamlessly drive from Vancouver, British Columbia to San Diego, California, from Los Angeles to New York City and from Boston to Miami. And remember, that's without spending a penny on gas or spewing an ounce of CO2 into the air.
Even a tree-hugger like me can get on board with that kind of luxury.
Changing How We Think About Bicycles
The Boda Boda by Yuba Bicycles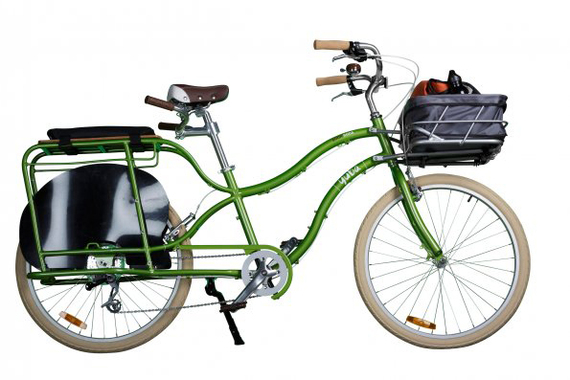 In many parts of the world, bicycles are the preferred means of transportation but in America, we use them mainly as rolling exercise machines. Yuba Bicycles of Petaluma, California is working to change that mindset with their new Boda Boda bicycle.
Think of the Boda Boda as a kind of two-wheeled SUV for the environmentally- and health-conscious. Made from strong, lightweight aluminum and capable of carrying a passenger and or a week's grocery, the sturdy, all-weather Boda Boda is quickly catching on. Stable, easy to ride and available with a slew of options including a hub-generated lighting system, the Boda Boda is perfectly suited for jaunts to the store, day care or the gym, day or night.
Owner of Yuba bicycles, and designer of the Boda Boda, Benjamin Sarrazin, told me that a large percentage of Boda Boda owners are women with small children. And that's a good thing for the environment because we all know who really runs the world.
Sandals To Save A Nation
Combat Flip Flops


Ex-Army Ranger Matt, "Griff" Griffin served two tours of duty in Afghanistan, and his experience led him to one inescapable conclusion: winning the war would require more than out-fighting the enemy. To transform Afghanistan from a third-world haven for terrorism into a stable member of the world community, it would need a viable economy.
Griff's idea was to design a manufacturing technique using local resources and manpower to create a product that could be made in-country and sold to first-world markets. His solution? The Combat Flip Flop. Employing native materials and indigenous design motifs, Combat Flip Flops can now be produced using an ingenious "factory" that can be transported to third-world countries such as Afghanistan, all in just one shipping container.
Winning hearts and minds was never quite so cool or so stylish.
A Reminder Of Our Nobler Nature
Breaking Earth's Bonds By Ulrich Pakker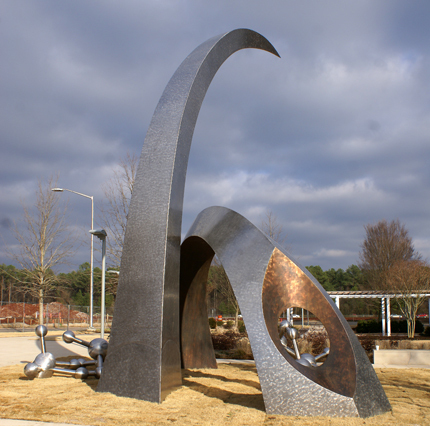 Peace and Love might not be the first words that come to mind when you think about the Redstone Arsenal but that's the general notion that inspired Ulrich Pakker's elegant sculpture gracing the office complex plaza at the facilities' entrance in Huntsville, Alabama.
Breaking Earth's Bonds, the artist told me, was meant as a monument to the higher aspirations of humankind. "It's about our boundless capacity to reach beyond our Earthly limitations, to put aside our petty cultural and political differences, and to strive for something nobler, something better."
Winner of the UNESCO award for Inspiring Peace and Humanity Through Art and Science, Breaking Earth's Bonds, reminds us of the benefits inherent in the productive-rather than the destructive-uses of rocketry and space exploration.
And how do you get more Peaceful and Loving than that?
That Guilt-Free Glow
The Lighthouse 250 Lantern by Goal Zero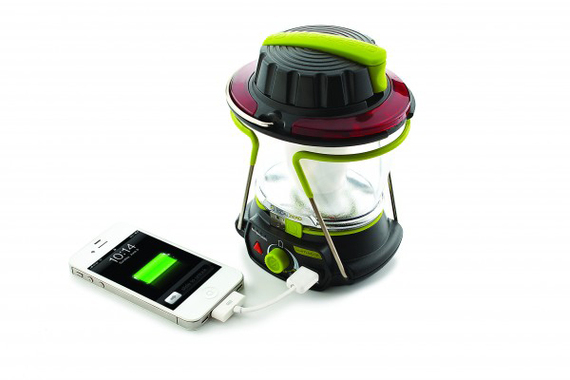 You know that flashlight you've got sitting at the bottom of the junk drawer? The one with those big D batteries that you have to keep sending to the landfill every time they go flat? Well, it's time to recycle that old clunker because something much better and more environmentally responsible has come along.
The Lighthouse 250 Lantern by Goal Zero is not your average emergency backup light. With a lifetime battery providing up to 48 hours of light per charge and capable of a really bright 250 lumens, the Lighthouse 250 Lantern is designed to be recharged using Goal Zero's solar panels, by plugging it into the wall, or you can charge, and even run it manually with the built-in hand crank.
But it gets better. There's a USB port you can use to recharge your music player, smartphone, e-reader or to give a power boost to your tablet.
With the Lighthouse 250 Lantern, you can be environmentally conscious and still enjoy your creature comforts even when the electricity goes off.
Darby Roach is a designer, writer and adventurer. He recently completed a round-the-world bicycle trip and has written two new books chronicling his odyssey: Right Lane Ends and How To Ride A Bicycle 'Round The World.
You can follow his travels at BikeAroundTheWorld.org.