During the Nepal leg of my recent bicycle ride around the world, I took time out of the saddle to hike into the Annapurna Base Camp. It was an eight-day adventure that lead me high into the Himalayan Mountains to the staging area for attempts on Annapurna, the world's 10th highest mountain.
This is Part Two of a three-part serial that chronicles that amazing experience. Click here to read Part One.
Day Three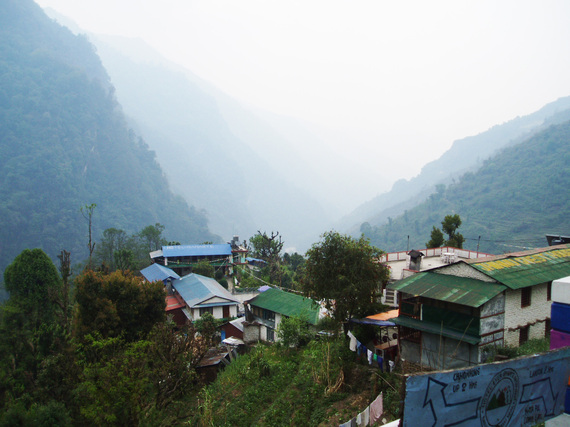 I'm awakened in the middle of the night by a dull ache. It takes me a few moments to pinpoint it and finally I realize that it's my old knee injury kicking up again. I reach down to massage it and discover to my horror that it's swollen to a quarter again its normal size. I can move it but it sure is stiff. I get up and take a couple of Ibuprofen, then, fall back into a fitful sleep.
Jihnu is at 1780 meters, hardly high enough to qualify as High Altitude, at least not for the company in which Maurice Herzog and his teammates circulated. They were the first humans to reach a height of over 8,000 meters under their own steam but they paid a dear price for the honor. As I stand outside the guesthouse this morning I get my first good view of Machhapuchhre or 'Fishtail,' a companion peak of Annapurna. It's not nearly as high as Annapurna but it looks imposing as hell in this early morning light, etched vividly against an impossibly blue sky. I gently stretch to work the stiffness out of my bum knee and try to imagine what it had been like for Herzog when he and Louis Lachenal finally stood on Annapurna's summit. And when, during the descent and in a hypoxic daze, Herzog made the tragic mistake that nearly cost him his life and triggered of one of the most epic acts of heroism in the annals of climbing history.
But it's best to put such grim thoughts out of my mind for now. It's a fine clear morning and the air is like scentless perfume. I've had a big breakfast, my pack is light and my knee is useable if not quite in sprinting condition. If I baby it and use my walking stick I'm certain I can make it to Basecamp just three days from now.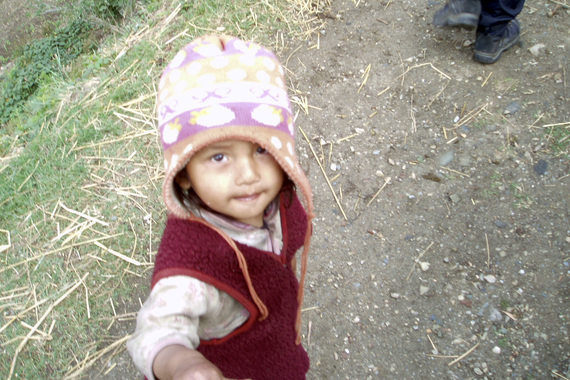 Prem and I have fallen into a comfortable routine. I'm out of the village and on the trail by 7:00 AM. Prem has been keeping a watchful eye on me and he knows I'm fine on my own so he usually doesn't get going until a bit later. He catches up with me around mid morning and we take a break together at one of the little mountain villages around midday. Today we stop at Kuldhigar. "Do you want to eat, Father?" He asks. He's taken to calling me by this name, and by 'Ba' which is, he tells me, Nepali for dad.
"Nah," I say, "I'm not really hungry." The truth is, I am but I find it uncomfortable to eat in front of Prem. The $15 a day I'm paying his agent at my hotel, Phil's Inn, back in Pokhara, covers his time and his room and board. He is a terrific guide and inspires my confidence. He waits on me hand and foot and sits patiently while I pack in the calories. I assume he gets sustenance from the kitchens of the teahouses where we stop but I never see him eat. Food is expensive this far up the trail and I can't afford to buy his meals so I've been skipping lunch. But that's okay I need to burn off some fat anyway.
Prem is engaged in conversation with a couple of the other guides and I shoulder my pack, grab my walking stick and with a wave to Prem, start out from Kuldhigar. As I pass the next guesthouse I buy a candy bar and wolf it down as I hike out of the village.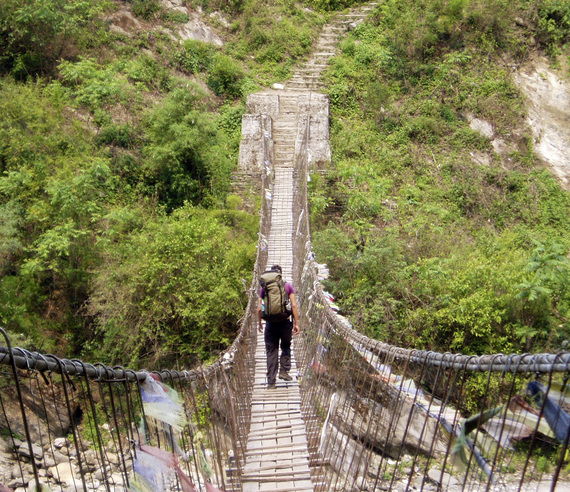 The goal for today is the village of Bamboo. We gained a lot of altitude yesterday and this afternoon I lose some of it in my descent to the village. As I go lower toward the Khola, the jungle thickens around me. The trail winds down past giant ferns and tall palms. Through a break in the canopy overhead a huge bird wheels across the sky and disappears. At one point I pass a large, gnarled rhododendron tree with the most beautiful rubine blooms. Some of the blossoms have fallen onto the trail and form a kind of scarlet carpet. For the first time I fully realize what a strange and exotic place this is. With its weird sights, sounds and scents, it hits home just how far from home I really am.
Around 3:00 I reach Bamboo and as I step into the shelter of the guesthouse the rain begins to fall lightly and sporadically at first, then, in full force. I collapse on my bed and drift off into a light slumber. But soon the pounding of hail on the tin roof awakens me and I get up and dash through the deluge to the teahouse just in time to see Prem walking up the trail. I give him a wave and a shout and point to our room. He runs over and disappears inside.
I sit down at the table next to a young trekker and we introduce ourselves. His name is Alastair, a Brit, and like me, he's in the marketing game. We hit it off right away and while away the evening talking shop.
Day Four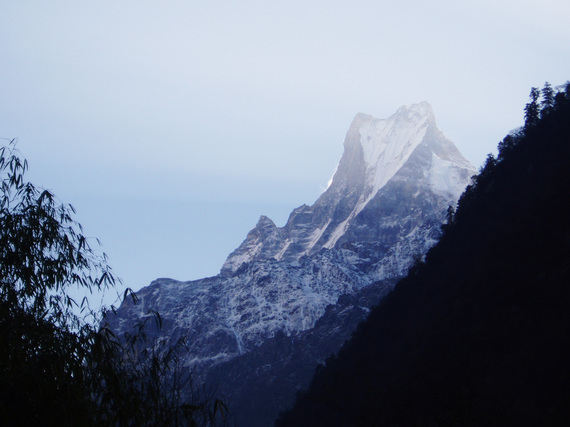 I get an early start out of Bamboo this morning heading for the village of Deurali where we'll spend the last night before the push to ABC. The trail hugs the bank of the Modi Khola now and the sight and sound of the river is never far away. It's a steady uphill grind from here and the canyon narrows as I get closer to the river's source. Machhapuchhre dominates the skyline over there to the right and I stop often to snap pictures. I'm walking in the faint light of predawn but the sky is a deep blue beyond Machhapuchhre. Soon the sun will be up.
It's cool and I'm wearing a thin pair of fleece gloves and the orange, counterfeit North Face fleece hat I bought at a trekking shop in Pokhara. The cold hasn't done anything to help the stiffness in my knee and I stop to stretch. It's a pleasant feeling being cold though. There's a sharpness in the air that's exhilarating and I take in a deep breath and blow out a cloud of steam just for the sheer joy of it.
It was cold, too, that day on Annapurna 63 years ago. Herzog and Lachenal had reached the summit and were descending when, just below the top, Herzog paused to get something out of his pack. Because he was without bottled oxygen, Herzog was severely hypoxic and he forgot why he'd stopped. As he tried to remember, he watched in horror as his gloves, which he'd removed to undo his pack, slid along the icy slope and out of sight down the mountain. Even in his compromised mental state he understood the dangers of exposed flesh at 26,000 feet. He did the only thing he could do: he started down as quickly as possible, hoping to reach high camp before frostbite set in.
By the time he reached the tents, his hands and feet were frozen. Luckily, two other climbers had ascended to the high camp to act as a support team. If not for them and the emergency first aid they were able to administer, Lachenal and Herzog would have certainly perished that night. Though the two summiteers were still alive the next morning, getting them down the treacherous slopes of Annapurna in their now-crippled condition would prove an almost impossible ordeal. The worst was yet to come.
There's an axiom in mountain climbing that says, "By the time you realize something is wrong, it's too late to do anything about it." I've been on the business end of that axiom a couple of times so I survey my surroundings to try to spot any potential dangers and I realize the place is full of them. I'm standing on a narrow path carved out of a steep cliff. A misstep could send me tumbling into the river or I could be crushed by an errant rock falling from the mountain above. I shrug, take up my walking stick and continue along the trail with a light heart.

The first village I come to is Dobhan but I'm clicking along at a decent pace, my leg is limbering up and I truck right on through without stopping. I've got summit fever now. I'm itching to get to ABC and I pick up the pace a little though speed at this point doesn't matter. I won't get to Base Camp until tomorrow no matter how fast I go today so I force myself to slow down. No point risking that knee.
Prem has caught up to me and he's walking along behind singing snatches of "Oh Suzie Q".
We stop at the next village, Himalaya, and I buy Prem and I cokes for $5.80. The sun has climbed over the peaks, it's warm now and I stretch out on the ground and soak up some rays. I doze a bit, and then awake with a start. I look around-not certain at first where I am. It takes me a few minutes to gather my gear and get going. My head feels like it's stuffed with cotton; I don't know if it's a residual effect of my nap or the altitude. We're at nearly 10,000 feet and I've always been susceptible to mountain sickness.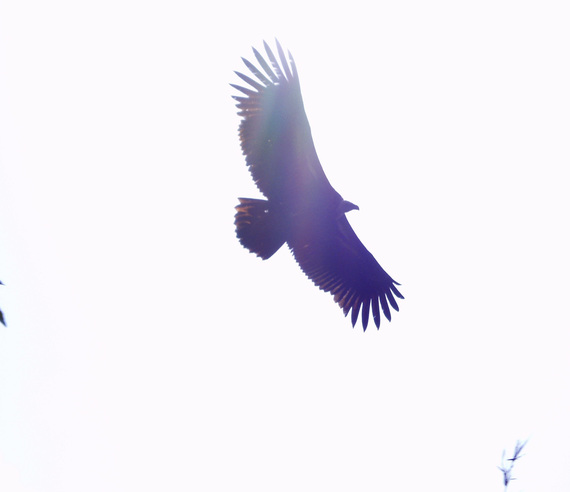 I reach Deurali just as it begins to pour rain. Prem has arrived ahead of me and tells me that the guesthouse is full and asks if I'd mind sharing a room with another trekker. It turns out my roommate is none other than my new pal, Alastair. We have dinner together and during our conversation I find that he is finishing up the Annapurna Circuit: a grueling, 26-day trip that winds through the Annapurna Sanctuary and has taken him as high as 15,000 feet. His feat of endurance makes me feel a bit wimpy so I don't mention that I'm starting to feel the altitude at this poultry height of merely 10,000.
End of Part Two
Be sure to watch The Huffington Post Travel Section in the near future for the rest of the story!

Darby Roach is a designer, writer and adventurer. He recently completed a round-the-world bicycle trip and has written two new books chronicling his odyssey: Right Lane Ends and How To Ride A Bicycle 'Round The World.
You can follow his travels at BikeAroundTheWorld.org.