Playspaces – playgrounds, skateparks, fields, ice rinks – serve as natural gathering spaces for kids, families and community members, and contribute to collaborative community improvement. As I have seen with my work at KaBOOM!, having access to quality playspaces within walking distance significantly improves the health and well-being of children and communities.
Unfortunately, it's often the case that children and families spend their free time inside, lured by television, computers and other sedentary activities. I strongly believe, though, that if there was greater access to innovative, quality playspaces, more people would spend more time active and outdoors. It is essential that we continue to work to improve these communal spaces to strengthen the bodies and minds of children and young people.
Additionally, in 2007 the Asset-Based Community Development Institute at Northwestern University reported that playspaces also help strengthen relationships among kids and parents. Playspaces help community members to devise new and creative neighborhood activities and provide a safe and fun place for everyone to learn from each other and grow as a community.
From unique destination playgrounds to smaller pocket parks that promote more frequent use, playspaces offer incredible venues for residents to be active and connect with each other. As you can see from the spaces I've featured below, the key to a successful playspace is a true consideration of the community's needs – ensuring that the space can provide an inviting and fun-filled experience that will encourage strong, lasting relationships.
Here are a few great examples I've encountered:
Imagination Playground in a BOX – Various Locations: Imagination Playground in a BOX provides children with a manipulable environment in which they can create and re-create their own playspace with each visit. First piloted in the Brownsville section of Brooklyn in partnership with the NYC Parks and Recreation Department, this semi-mobile play system offers kids a great space for imaginative play without the necessity of the large spaces required for traditional playgrounds.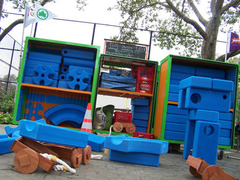 Camp H.R. Erdman Nature Built Playspace – Oahu, HI: This space is unique blend of natural elements in a landscape designed to serve as a community playground for years to come. Native plants and materials are used to create the spacious playground, which also functions as an educational tool on environmental sustainability.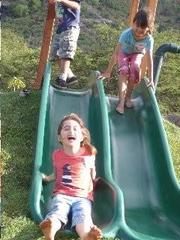 Adventure Playground – Berkeley, CA: Modeled after the adventure playgrounds popular in Europe after WWII, the Adventure Playground at Berkeley Marina invites children to climb on kid-designed and built forts, boats, and towers, ride the zip line, or hammer, saw, and paint new projects of their own.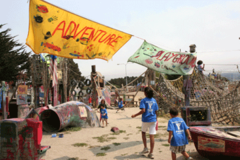 The High Line – New York, NY: Constructed on a defunct elevated train line, this innovative public space features an landscape that incorporates the city's industrial past with its desire for a greener future. New Yorkers have flocked to this ideal venue for family fun.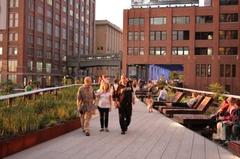 Imagination Station – Brighton, MI: Imagination Station is a 10,000 square foot playground comprised of a series of wooden play structures that create a fantasy play area for kids of every age.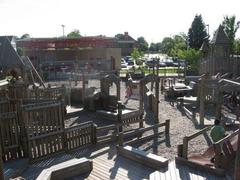 Kellogg Park Eco-Playground – New Orleans, LA: This pocket playground, equipped with solar-powered electronic playground equipment, is a central feature in the Make it Right Foundation development of New Orleans' 9th Ward. It not only gives the children of this hard-hit area a great place to play, but also incorporates lessons about the local ecology.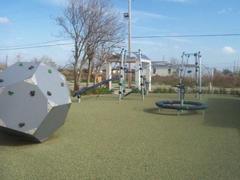 Bible Story Playground – Parker, SD: Located near Sioux Falls, this playground was built with the church community in mind. Through creative equipment designs, it teaches children well-known stories of the Bible through interaction and play.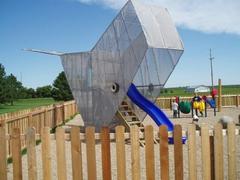 Alexander W. Kemp Playground – Cambridge, MA: This great playspace was just renovated with equipment that promotes strength and fitness, creativity, imagination, social skills, a sense of discovery, and an understanding of the outdoor environment. It provides opportunities for children to explore and challenge themselves within a safe, imaginatively stimulating environment.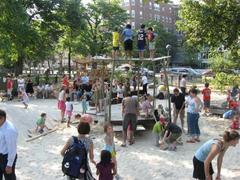 Nay Aug Park – Scranton, PA: The City of Scranton's largest park, Nay Aug Park provides residents and visitors a touch of nature amid the city landscape.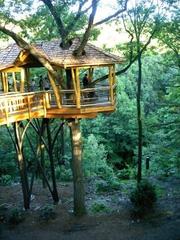 Moose Trails Playground – Red Lodge, Mont.: This playground has a 5-12 section and a large tot lot. It includes a rock climbing wall, a train tunnel, a musical area, a tire swing, a double slide, a tube slide, a wooden teepee, and lots of public art.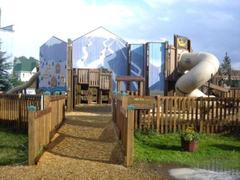 You can also find "10 Unique Playspaces from Around the World" here, as gathered by David K. Israel of Mental Floss.
Playspaces and parks like these are integral as we continue to address the health of our nation. Do you have innovative, unique playspaces in your community? Are you interested in finding a playspace near you, but don't know where to start?
Check out the Playspace Finder, a user-generated map of playspaces across the country and around the world. There are over 90,000 playspaces entered into the database where you and your kids can run, jump and swing. If you know of a cool playspace in your neighborhood that's not listed, feel free to upload it into the Playspace Finder to let everyone know where they, too, can find these great places to play.
See you out on the playground!